Today, we are planning to introduce our food enthusiastic author, who has decided to write a book on her Easy Home Cooking recipes in #BlogchatterEbook Carnival. she is none other than our own Ginia Basu. Before we start our chit chat with Ginia, please find below the earlier interviews:
1st interview – "Abhijit ray" author of "Desert Plant"
2nd interview – "Meena Chatty" author of "Starlit Sky"
3rd interview – "Pratibha" author of "Eco Babycare & Green Parenting.
4th interview – "Varsha" author of "Konkan Diaries"
5th interview – "Geethica" author of "Thoughts and Conversations – Cafes in and around Delhi"
6th interview – "Saba Irfan Ladha" author of "With Love, yours Hatefully"
7th interview – "Darshana Sarmah" author of "Put your best foot forward"
8th interview – "Anand Narayanan" author of "Flowered Bytes"
9th interview – "Pooja Priyamvada" author of Mental Health Primer
10th interview – "Surbhi Prapanna" author of Creative Kids
11th interview – " Sudip Saha" of Tech Know Logy
OK, coming back to our Chef cum food enthusiast, Ginia, read further to find out what ticks her going and how she tries her experiments in Baking.
Us: What inspired you to start blogging?
Ginia: I was inspired to start blogging after I got my blog site as a gift from my sister who is also a blogger. Also, I often used to read blogs about certain topics whenever I wanted any information, reviews or recipes. So I felt that I can also pass on all the information and knowledge that I gather through my blog posts.
Us: Can you please describe your blogging journey so far? And who are your biggest supporters
Ginia: MMy blogging journey was sporadic in the very onset but now has gathered some momentum thanks to blogchatter, super blogger challenge, ultimate blogging challenge, etc. My biggest supporters are definitely my family member
Us: Why did you register for the A2Z challenge?
Ginia: I Registered for A2Z challenge to get some discipline in writing my blog regularly despite a super busy schedule
Us: How it feels like to be called "Author"?
Ginia: Being called an author gives me a dreamy and accomplished feeling. It's absolutely superb.
Us: What is the key learning for you from this Blogger to Author journey?
Ginia: My key learning in this journey is that an author has to be much much more disciplined than s blogger. Also, you really have to be very honest in your writing
Us: Do you want to share any future plans for your blog and books with us?
Ginia: In the future, I would like to write a fiction book.
Us: How is your overall feeling on Blogchatter's carnival and what are your recommendations for other bloggers?
Ginia: Blogchatters Ebook carnival is a great platform for bloggers turning into authors as it gives awesome exposure and chance for many types of interactions and marketing strategies. I am grateful to blogchatter for this opportunity.
So, friends, hope this interview with Ginia was entertaining for you and you got to know little more about her. In case you want to grab the copy of her much-acclaimed book, it is here for you all.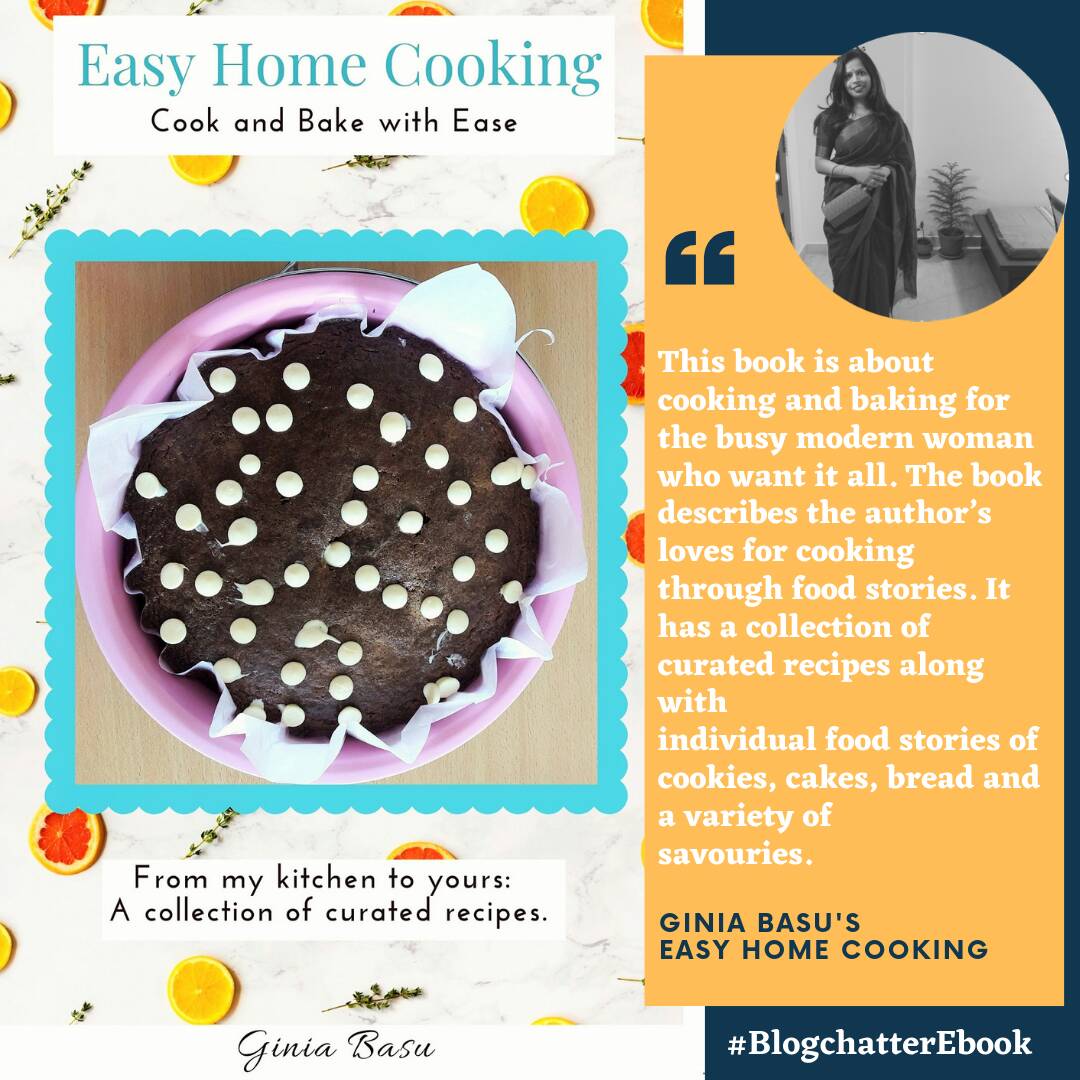 My co-host Pragun has done a candid review of the book "Easy Home Cooking" and you can find the review here.