Welcome back friends, to the #Author Interview series hosted by Pragun and Me.  We are hosting the Author Interview Series for the Authors who got launched this year through the Blogchatter's EBook Carnival. You can find the previous interview details here:
Today's we are going to introduce you the most passionate blogger, who got featured on Humans of Bombay and other magazines. She is one of those iconic bloggers, who have proved that with determination and hard work one can achieve anything.
This time, she has donned her best creative hat and came up with a short novel called "With Love, Yours Hatefully" which was much loved during the Blogchatter A2Z. So now let's hear, what Saba has to say for us:
Us:  What inspired you to start blogging?
Saba: I always had this love for writing and reading and from school days, I was famous for my creativity when it came for writing. I could bring an unexpected twist in a normal subject. Hence, when I got to know that I can write on any platform and be known for it or get readers for it, I jumped for it.
Us: Can you please describe your blogging journey so far? And who are your biggest supporters?
Saba: I have been blogging since 7. Years now. Started from scratch, knowing absolutely nothing and no one to guide. Google has been my biggest teacher on this journey. My biggest supporter is my husband. He keeps on encouraging and urging me to do more and better though I doubt if he had ever read my single blog or book so far.
Us: Why you did register for the A2Z challenge?
Saba: It's a challenge and I love challenges! Wanted to test myself against it and I did emerge as a winner.
Us: How it feels like to be called "Author"?
Saba: Awesome feeling it is! A childhood dream come true. I have always been dreaming of creating my own book since I used to read Nancy drew and Enid Blyton. It's an amazing tag and I love calling myself an author and feel immensely proud of being an author
Us: What is the key learning for you from this Blogger to Author journey?
Saba: I have learned quite a few things in this blogger to author journey. Being a blogger is like writing short blog posts and all occasionally while writing a book demands more dedication, concentration, and perfection and thrive or four times the effort than blogging. A single miss between the storyline, and you lose the interest of your readers.
Us: Do you want to share any interesting stuff on this book which has not been captured there?
Saba: Hmmm I think I have captured almost everything in the book that I could think of. Couldn't think of anything more adding to it.
Us: Do you want to share any future plans for your blog and books with us?
Saba: I'm always planning ahead for blogging and writing. For my book, It'll soon be seen on amazon kindle and wattpad and blogging, it's going to be more exploration on my blog website and more blogs of food, travel, parenting, and lifestyle.
Us: How is your overall feeling on Blogchatter's Carnival and what are your recommendations on the same for other bloggers?
Saba: Blogchatter's carnival is a blessing for writers and bloggers. You just shouldn't say No to it! It's a huge platform for everyone to showcase their writing and blogging talent and gain max through it. And also, a great way to know your blogging community better. For others, I would just suggest grabbing the opportunity of blogchatter carnival in the future for a bright future!
So, Friends, this is the short and sweet interview of our sweet lady Saba and please feel free to read her creative fiction here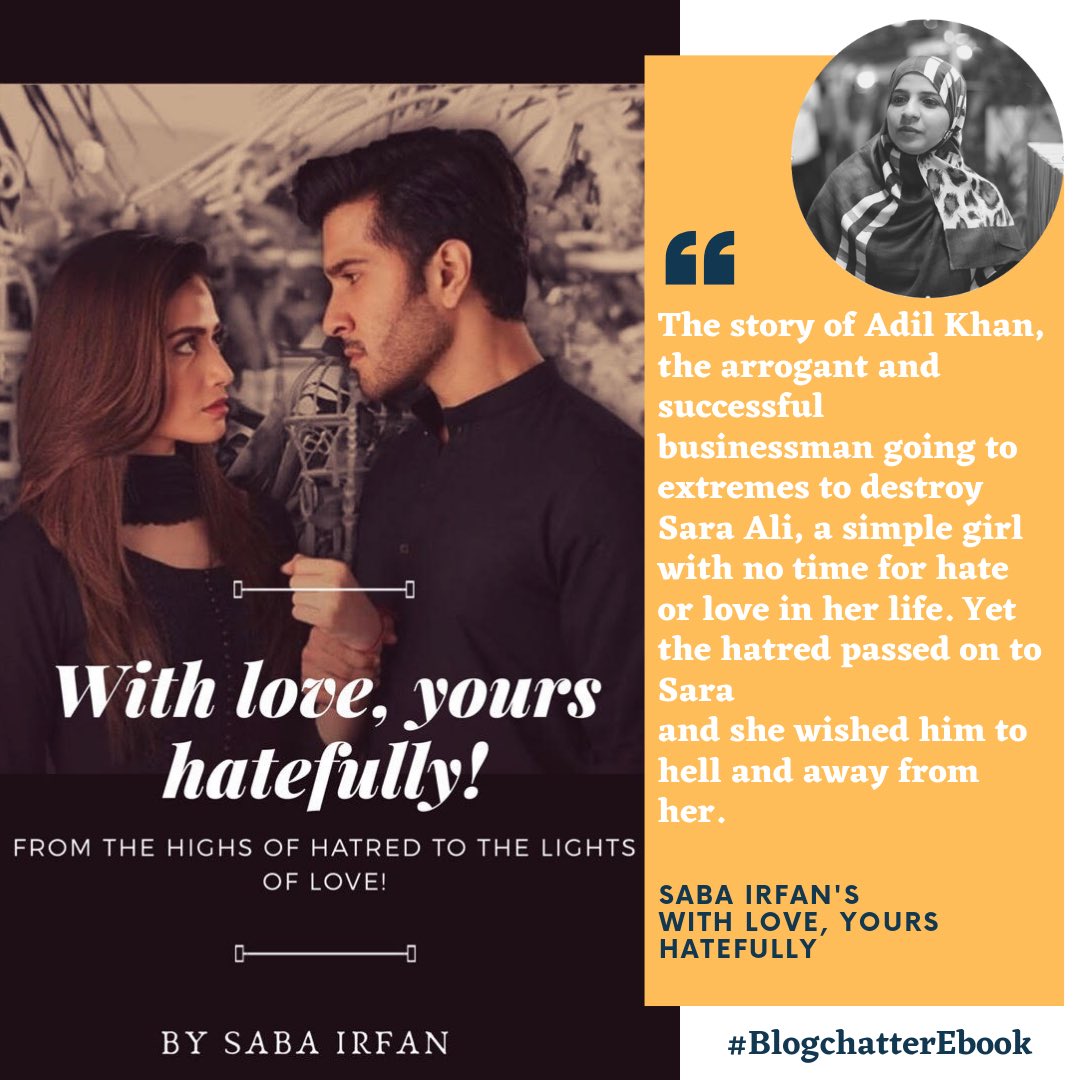 My co-host Pragun has done a candid review of the book "With Love, Yours Hatefully" and you can find the review here.