The onset of the COVID Pandemic has changed everything. Nothing is going to be normal again and travel will never going to be the same. It's difficult to predict when one can travel safely. Then how can an avid traveler like me survive? Instead of the armchair travel or watching the touristy places on the gadgets, our family has come up with a new mode of travel. It's the "Travel within Oneself".
What is "Travel within Oneself"
If traveling is to explore new places, then travel within oneself is to explore our own self. Looking back into oneself deep enough to understand our own limitations, ambitions, insecurities, and everything about ourselves.
Trying to dig deeper and understanding ourselves is always good for one's soul and a happier soul means a happier person.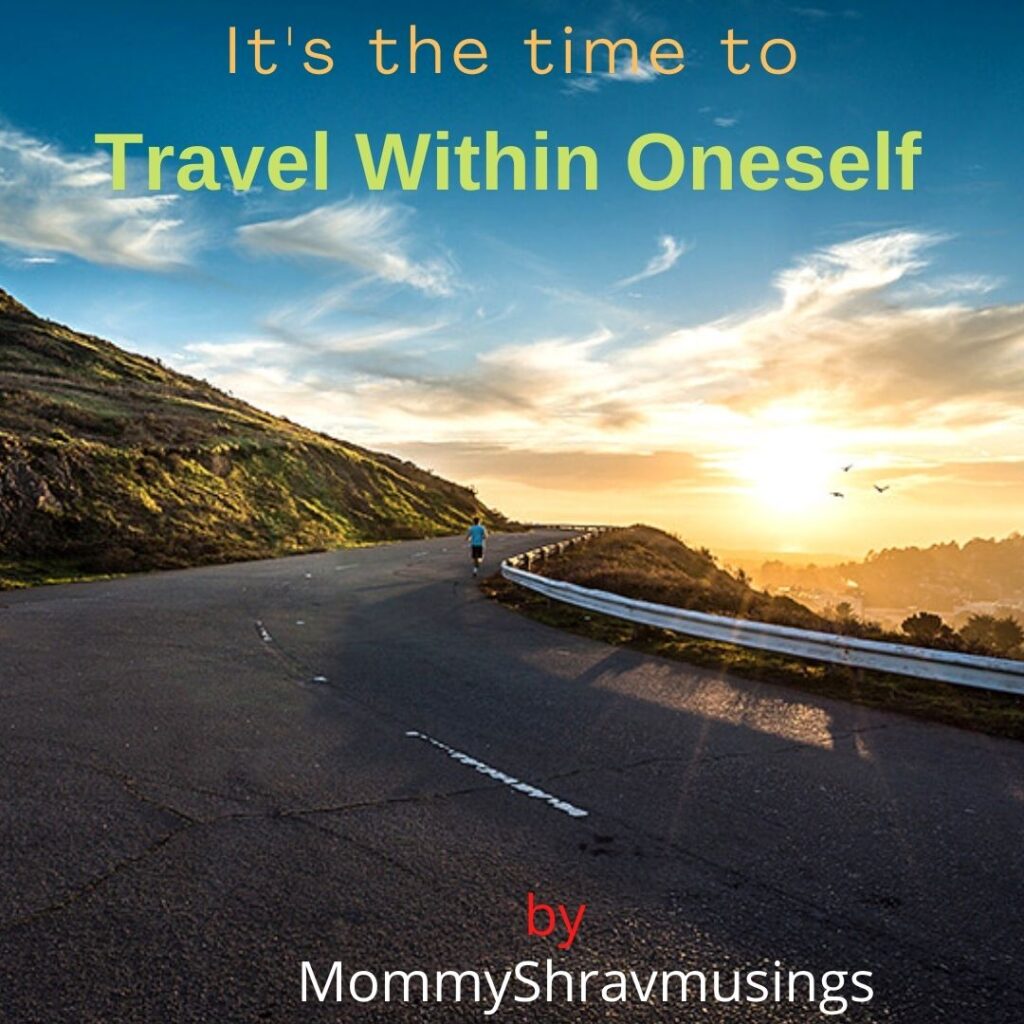 Why is "Travel within Oneself" needed?
Traveling to find oneself is quite normal. You would have heard/seen multiple people who after traveling came back refreshed and as a person, as they were able to find themselves. Do you think the physical travel to new places really got the change in them or finding their inner passions and desires got that change in them?
[Book Review: The Network by Margaret Lomas]
If a person is trying to escape from his own thoughts and feelings, then the physical travel is not going to help that person. But traveling within to find oneself is definitely going to help. "Traveling within Oneself" is going make us face our fears, insecurities, and anxieties heads on and find a solution for them. Then automatically one would emerge as their stronger self, with renewed energy and life. That's the positive outcome of this kind of travel.
In this pandemic days, we can achieve this feat without stepping out of our safe boundaries.
Your Itinerary for "Travel within Oneself"
So now that you are convinced of the need for this new kind of travel, I am sharing our itinerary plans with you all, so that you can tailor them based on your needs and situations. Our main agenda for this travel is to
1. New Understanding about Self:
Once in awhile, one needs to take a hard look within oneself to understand what they like, they don't like, and what things they are taking for granted in life. This pandemic bought those hard-hitting facts on to our face. Pizza nights, long drives over the weekend were something we took for granted. But when we couldn't do them, we tried to explore some new options to spend as a family.
Get to know what you like and don't. Also, understand the why part of it.
Now our family bonds over the moonlight dinners in our terrace garden, or to multiple cups of tea sitting on top of the water tank, with a gentle breeze caressing our faces bringing the smell of blooming jasmines from down below. We really don't need the expensive fancy restaurant dinners or the long drives to bond with each other. All we need is the time away from gadgets and in the lap of nature.
2. New Passions to discover:
The COVID pandemic bought the world closer to the digital platform. This gave us more opportunities to explore. My child is able to try out his long-pending desires of trying ballet and Kathak dances for a couple of days.
My mom-in-law is now able to start learning new stuff on our Indian scriptures and enjoy her time, instead of spending time watching various serials on the television. She even started taking lessons on ayurvedic medicines.
It's never late to Learn New things
I and hubby could do a lot of courses that were long pending due to the lack of time all these days online, without stepping out of our house.
[Parenting Lessons from the movie Pareeksha]
3. New tastes to discover:
When all the hotels are closed, and the maid is on forced leave, we have to start cooking. Eating daily the daal chawal or the traditional south Indian meals becomes boring after a certain time.
You never know about it till you tasted
The rescue came to us in terms of the cooking channels, cooking blogs. With their help, we started trying out the continental dishes including Thai, Italian, American dishes. We realized that our family likes baking and we started baking almost daily now. Home-baked goodies taste better on any day!!
4. New fears to be conquered:
Understanding our own fears is the first step towards conquering them. Speaking about them loudly is the next step in conquering them.
God has created Fears only to be conquered
We can achieve this only when we can internalize our own feelings. Then facing those fears heads on is the only way to conquer them. To face those fears and anxieties heads on needs a strong will and support from the family members. But unless we tell them what bogs us down, they wouldn't be able to help us. So Speaking out loud about our fears and anxieties is a must. And that's the reason why we need daily family bonding ritual as well.
5. New Values to be learnt:
This is the time we got without any external disturbances. So we used this time to teach our kids about our own culture and traditions. In normal days, the child as well as parents would be rushing from one task to the other. When the world came to stand still with the pandemic, we could use that time to teach our kid the traditional games we played when we were kids and share a lot of stories we learned from our grandparents.
"Culture and Values are the basic core of every human being"
Apart from our own culture, we showed the differences across various cultures so that the kid is aware that different cultures do exist in the world and there is good to learn from every culture. Gadgets and the online world came to help us in this endeavor.
So, did you like my travel into self agenda? What about you, when are you planning your "Travel within yourself". I would love to hear your experiences or your views on this topic in the comments.
'This blog post is part of the SpeakEasy Blogging Challenge by Dipika and Ruchi.'