Customized Entertainment pack just for you – ZEE5 Club pack
The lockdown due to the COVID pandemic, from the last few months, is leaving everyone restless. Staying cooped up at home from the last four months is no easy task. Though the country is slowly opening with the new Unlock 2.0, it's difficult to roam around as freely as earlier days in the new normal. Social distancing has limited our choices on the entertainment and relaxation front. ZEE5 has turned out to be our new savior in the current situation. ZEE5 has already established itself as the number 1 family entertainer on the OTT platforms. They have recently announced the new ZEE5 club pack, which can act as the best-customized entertainment pack just for you.     
In an unprecedented move, the ZEE5 family has announced the new ZEE5 Club pack which focuses on ZEE5 – Alt Balaji Originals, Zindagi shows, and Before TV. One can get the fresh access to various shows from these channels even before they are aired on the Television.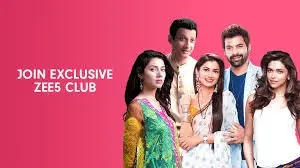 This ZEE5 Club pack resonates well with new-age Women, as the ZEE5 family understands the Woman better. It's not the only Woman, but the ZEE5 Club pack has also considered the diverse audience who can enjoy 1000+ blockbuster movies and 90+ live TV channels without any intrusive ads. 
There is one more additional advantage with the ZEE5 Club pack. Surprised, isn't it? Yes, the Club pack also includes the Regional content.  
The audience can watch, Telugu, Tamil, Malayalam, Marathi, Kanada, Bangla along with the Hindi movies and shows.  Still not able to believe this news isn't it? ZEE5 has announced this new Club pack at a reasonable rate. 
Why this Customized Entertainment pack for you?
Based on your language preference and the genre preferences we can pick and choose what to watch. As already stated, it's available in all the Regional languages. One can pick up their favorite genre of Comedy, Horror, Romance, thrillers, Live Shows, and more.  
Apart from the various new and original movies screened on this platform, we can get to watch the Original ZEE5 Zindagi shows like "Aunn Zara", "Baba Jani", "Badi Aapa", "Ishq Gumshudha", "Diyar-E-Dil" and many more.  
You might be interested in Reading: ZEE5 Kids is the new favorite channel of my kid
The famous Hindi shows would get aired here first even before they are screened on the television.
Baarish
Kehne Ko Humsafar Hai
Balla Calling Bhalla
Hum Tum Aur Them
Fixerr
Fittrat
Broken but Beautiful and many more
The above mentioned are just a few named here.
Do you love Watching Romance & Drama? Then, the New Zindagi Shows & ZEE5-Alt Balaji Original shows are for you only and you can watch them with the ZEE5 Club Pack.  On ALT Balaji we can watch only the ALT Balaji shows, but on the ZEE5 Club pack we can not only watch New Zindagi Shows but ZEE5 originals and the ALT Balaji Shows.  Now, don't you all agree that the Entertainment Becomes Even More Personalized with ZEE5 Club Pack? If you and your family are Entertainment fans, then look below for the 5 topmost reasons as to why the ZEE5 club pack is the best for you.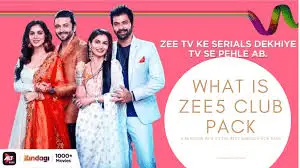 5 Reasons Why ZEE5 Club Pack Is the Best Value Plan?
ZEE5 has announced this best value plan of Club pack at just INR 365/- per year, which makes it the cheapest entertainment pack. That's not all, after subscribing one can watch:
Multiple genres that suits for all age groups in the family.
Multi- Regional pack to satisfy the regional needs for the diverse Indian population
Multiple channels clubbed under one single Club pack
Multi-device access, as  ZEE5 supporting various devices like tablets, mobile, PC, Smart TV, etc.   
No interfering and intrusive ads.
Now tell me don't you all agree that this ZEE5 Club pack is the Customized Entertainment pack just for you? So why wait – go ahead and subscribe faster!