Hanukkah is the winter festival of lights for Jews and is celebrated around the winter solstice in the Jewish month of Kislev. This is also called the Jewish Festival of Lights and is quite famous in Western countries. Like our festival of lights (Diwali), in India, even this festival is celebrated with gifts, socializing, and elaborate meals worldwide.
I was introduced to this festival by my Jewish colleague while I was working in the USA. As I am very interested in learning about new traditions and customs, I became an interested student to my dear friend. I learned a lot about Jewish customs and traditions. He was patient enough to explain to me not only about his religion but also about various festivals. Their associated storieskkah captivated me at that time due to the miracles and faith surrounding this festival.
As a mental health advocate, when I was looking for blog post ideas, the Hanukkah stories came into my Google feed today, as Hanukkah is starting from November 28th this year. So, I thought of writing about the mental health tips from Hanukkah rituals and traditions this time. Though these tips are applicable throughout the year, at least now, while wishing our Jewish friends and families, we can all try to recollect them once again.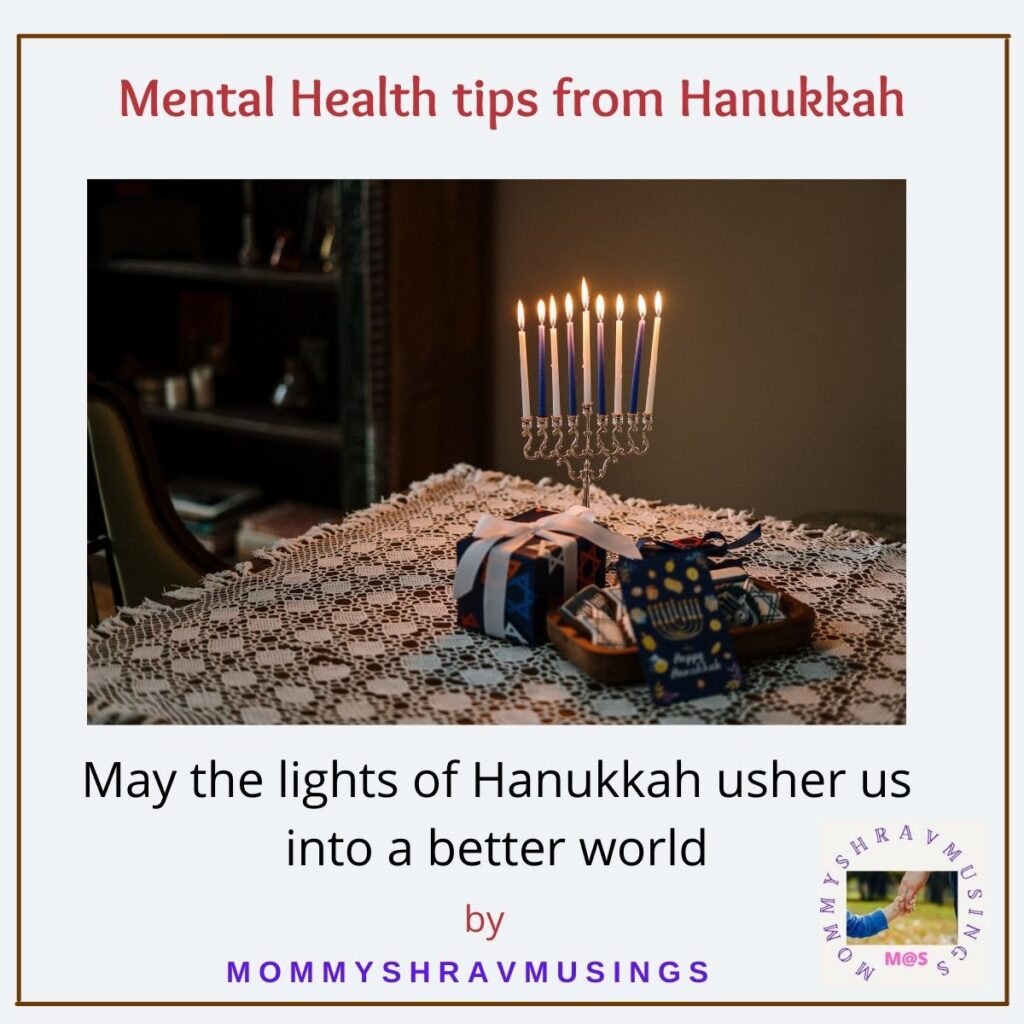 What is the Hanukkah festival all about?
Hanukkah means dedication in Hebrew. This festival is celebrated in honor of the rededication of the temple in Jerusalem by Jews after fighting the long and hard battle with the Syrian Greeks during the 2nd century BCE. When they cleaned up the temple and wanted to offer their prayers, they discovered they had tiny quantities of the promising oil used to light the lamps. It will take them eight days to purify the olive oil and make it appropriate to light the lamps at the altar.
Though they were worried about the quantity of the oil, they decided to light a single lamp to mark the celebrations and how one candle would be lit on day 1 of Hanukkah. To their surprise, that lamp that the Jews had lit lasted for eight days until the next set of purified oil could arrive. It was nothing short of a miracle, which showed them that god was there with them, providing strength and support.
Hence, they started celebrating Hanukkah, also called Chanukah, from that day onwards. Though it was not marked as a significant festival initially, over time, it became a major celebration for the Jews in Western countries. This festival is being used to pass on their culture, the importance of their religion, and its rituals to the next generation living far away from their motherland.
Hanukkah rituals and traditions
Hanukkah is all about getting together as a family and spending time together. This festival means a lot to the Jews in Western countries, where they all assemble as a family, share gifts, recite their holy scriptures, sing songs, and teach the younger generation about their customs and traditions. It doesn't involve any strict religious practices like Shabbat and other rules.
As a part of this festival, the entire family gathers to eat different delicacies made with oil (fried potato pancakes, jelly donuts, etc.), play dreidels (similar to spin tops), and light unique menorah candles on the famous candelabra. Most people display these lights on their windows or put them outside their homes as well.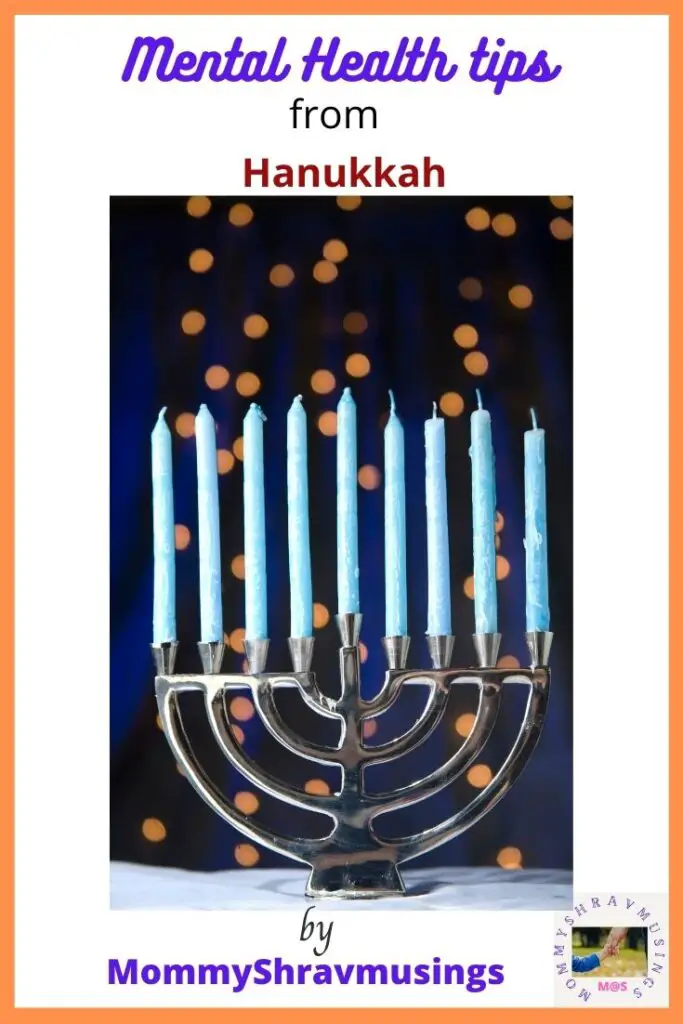 Mental health tips from Hanukkah
The following are the mental health tips that one can learn and practice from Hanukkah stories and rituals.
1. Accepting our uniqueness:
Every individual is different and unique. We need to accept our individuality first and then work towards preserving our uniqueness. Jews know they differ from Syrians and others in that geography, but they fought hard to maintain their unique identity. They first accepted that they were special and different before fighting for their rights. In the same way, taking ourselves is the first step in our journey toward self-actualization.
2. Light the Candle
The darkness surrounding us is nothing but our ignorance. When we light the candle of knowledge, the night will vanish. So is the case with our mental health as well. We must burn the candle of knowledge and happiness to drive away our mental health issues.
3. Work towards bettering yourself
The idea of lighting the additional candle the next day is to see themselves in a new light after acquiring new knowledge or skill. Every day, we need to learn a new hobby or practice the same hobby to become more perfect. As long as we work on learning new skills regularly, the stress and other mental health issues wouldn't impact us. Lighting the candle, per the Hanukkah traditions, is seen as igniting new knowledge to drive ignorance away.
4. Reward yourself for your accomplishments
As per the Jewish customs, they reward the children for good behavior with chocolate gelt (chocolate wrapped in golden paper), which would be relished by one and all. In the same way, instead of waiting for external compliments and rewards, we can reward ourselves after accomplishing the goals we have set for ourselves. When we stop looking for external validation, our mental satisfaction will improve.
5. Connect with Others
Socializing with others drives away all the mental health blues, which is why most festivals across religions and cultures recommend mixing in the form of family gatherings. Especially during winters, when the nights are longer, humans tend to feel slightly low and down. That's why family gatherings and most religious celebrations happen during this time of the year.
6. Do things for others
As per mental health experts, participating in social service activities improves mental health, as it improves dopamine production in our brains. Even doing more straightforward tasks like helping our family members enhances dopamine production. A lot of Hanukkah stories reiterate the fact that helping others improves our happiness. Expressing gratitude and helping others are vital character traits to teach the younger generation.
7. Sleep and exercise well
Having a good sleep will automatically uplift our mood. When you meet your family members and enjoy the festivals with them, your sleep pattern will be more efficient, and one can see an improved sleeping routine, enhancing both physical and emotional health. Playing various family games and helping other family members also improves physical activity. This is what every other mental health practitioner also recommends.
8. Get a dash of sunlight
Last but not least, sunlight is essential for all living organisms. And especially in the chilly winter, spending at least a few minutes in the available sunlight boosts our immunity and mental and emotional health. And during the Hanukkah days, most of the family would plan their gatherings and outings to get a dash of sunlight before the harsh winters start.
Final thoughts:
As a child, I was always curious about different rituals and traditions. After learning about those traditions, my parents used to ask me to correlate them to the current day's modern lifestyle and ascertain why those are needed. While narrating the different stories about Hanukkah miracles, I could see that the above eight tips are recurrent in most of them in one form or the other. So, I decided to correlate the mental health principles to the stories and miracles shared during Hanukkah by Jews. If we keep our eyes open and try to understand different cultures with an open mind, we can learn many new things from each one. My parental lessons from Navadurga posts also fall under this category only. This is purely my endeavor, and I don't mean to demean any religion or culture by this blog post. I hope you all like this effort of mine in capturing the mental health tips from Hanukkah. Please let me know your thoughts in the form of comments.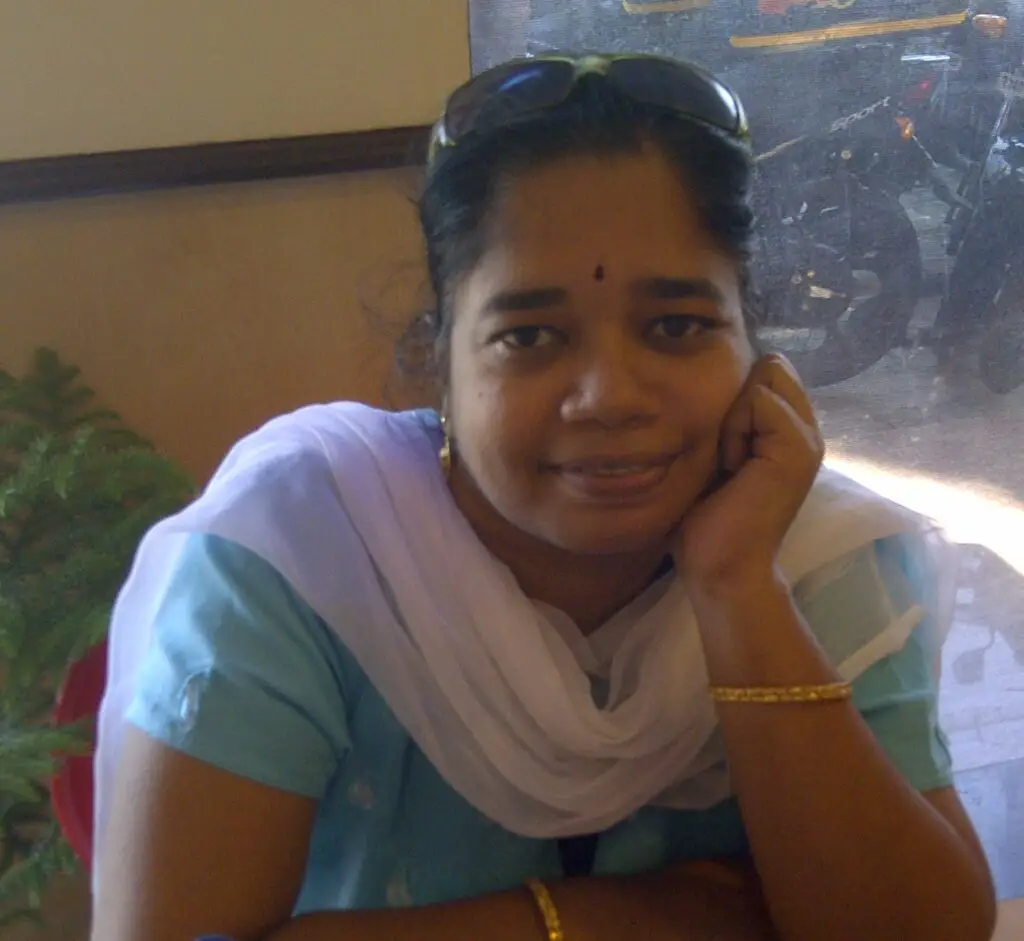 Suhasini, IP, is the Author of the book "Practical Tips for Kids Mental Health." As a certified kids and parents life coach, she helps/guides you toward a happy family life for your kids. She firmly believes, that "Emotionally Happy Kids of today are the Mentally Strong and Happy Citizens of tomorrow." Let's make the world a happy and beautiful place for our kids to thrive.