Summer has started, and so are the troubles for parents. We need to engage our children 24X7 for these two months, as the children are out of school. Though a number of activity classes and sports classes have mushroomed in every nook and corner of the city to keep the kids occupied, they are adding more stress to parents. Juggling their activity classes schedule for pickup and drops and managing our work routines and household responsibilities adds more stress to parents. And hence this article mentions the summer self-care tips for parents to avoid parental burnout or getting over-kidded.
Over-Kidded is the new term coined recently by experts, which refers to parents getting overwhelmed due to the amount of time they have to spend with kids to keep them engaged during their school breaks.
Why is Summer Self-care Required for Parents?
Summer is not just about month-long vacations at exotic places. Most of us wouldn't have the luxury of going on long vacations with family. Hence we end up waking early, dropping the kids at their summer classes, going to work, and managing the home. In between these pickups and drops, we also end up arranging playdates or park dates for our kids. Even after returning back home at the end of the day, the children might want us to watch a family movie with them, as they don't have to sleep early., it's vacation time for them.
Amidst all this chaos, no wonder we get tired; we feel like sitting and relaxing, but again it's time for another activity or play date. Or otherwise, some guests might be visiting us. So are these reasons not enough for our mental health to go southwards? And to top it off, the summer heat drains us faster than we can think. Don't you all agree?
Related Read: Summer Parenting Tips for a Fun Summer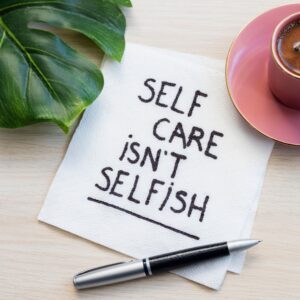 Simple Summer Self-care Tips for Parents
But we all want to create beautiful memories of holidays for our children. But that doesn't mean we must push ourselves beyond our limits and end up as a total wreck, right? So taking some time for ourselves and incorporating self-care routines into our daily schedules is not a crime; it will teach our children to prioritize their physical and mental health. Here are a few summer-inspired self-care tips for parents to avoid parental burnout.
1. Get Outdoors: You can incorporate self-care into family time by getting the kids involved. As a family, you can list a few outdoor activities you enjoy. Research proved that by spending time around nature improves the production of happy hormones in humans. So you can plan to incorporate a family walk, bike ride, swimming, trekking, or hiking into your daily/weekly schedules. By doing these activities as a family, the bonding between the family members will also improve.
Related Read: Improve the Fun Factor in your Parenting Journey
2. Schedule Self-care time: These hot summer months tend to drain one's energy levels faster. Hence it's all the more important to plan for your downtime. Set aside specific times during the day when you can relax and unwind. Use this time in a wise manner so that it can reenergize you and prepare for the hectic day ahead. You can either relax with a book or music, or you can even take a power nap. During this break time, also give a break to the digital gadgets so that you can avoid FOMO stress.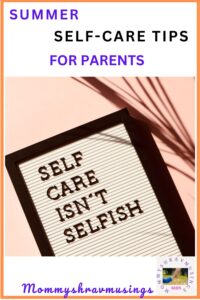 3. Plan a Summer Bucket List: Before the summer holidays start, every parent will have multiple ideas, but these two months will fly away without actually doing anything from that list. And that's one of the primary reasons for the parental guilt to kick in before the school year begins. Hence, sit down with your children, plan for your summer activities, and mark them on your calendar. That removes the last-minute planning stress.
4. Find a supportive community: Connect with other parents who understand the challenges of balancing self-care with parenting. Join a parenting group or attend a parenting class to meet other like-minded individuals. If possible, take the help of babysitters or daycare to give yourself some time.
5. Practice Mindfulness: Incorporate mindfulness into your daily routine, even when you're with your children. Take a few deep breaths or practice a short meditation to help you stay present and calm during stressful moments.
Parting Thoughts:
Parents don't have any seasons or holidays, as parenting is a never-ending responsibility. This continuous thought of becoming the best parent in the world makes the parents experience parental burnout or become over-kidded quite frequently. And we have all heard this quote multiple times "One can't pour from an empty cup." Hence, we must incorporate self-care rituals into our daily rituals regardless of the season. Only when we are emotionally healthy we can raise confident and successful children.
Hence, don't ignore the three main concepts self-care in your daily routines
have a healthy diet
have a good sleep routine and
get regular exercise.
In case you experience a lot of stress, depression, or anxiety, please talk to a parenting coach who can help you with easing the stress of your parenting journey.
QOTD: Ask your children what self-care means to them and why it is important?