Most parents would agree that their kids are big bundles of energy. Even though their physical forms look smaller, their energy levels have no bounds. They wouldn't fall asleep Unless they exhaust their physical and mental energies and get completely drained off. That's why most parents dread their night-time battles with their kids. And we are constantly on the lookout for new winding-down activities that can put our kids to bed with minimal struggles.
Our Story:
In my house, the bedtime battles are real and a daily affair, especially during the lockdowns. Before the lockdowns, my super-active boy used to exhaust his physical and mental energies by the end of the day and will fall asleep with soft music or by the time I finished reading a book. But while staying at home during the lockdowns, my kid never got tired and will be wide awake well past midnight. Even yesterday, we slept at 2:00 AM in the night, as he took a quick nap in the afternoon. He had all the luxury of sleeping late in the day, as his online classes were only in the early afternoons. But we have to get up early to manage the house and our work, isn't it? So, none of us could give him company in the night. So he starts getting crankier for leaving him alone.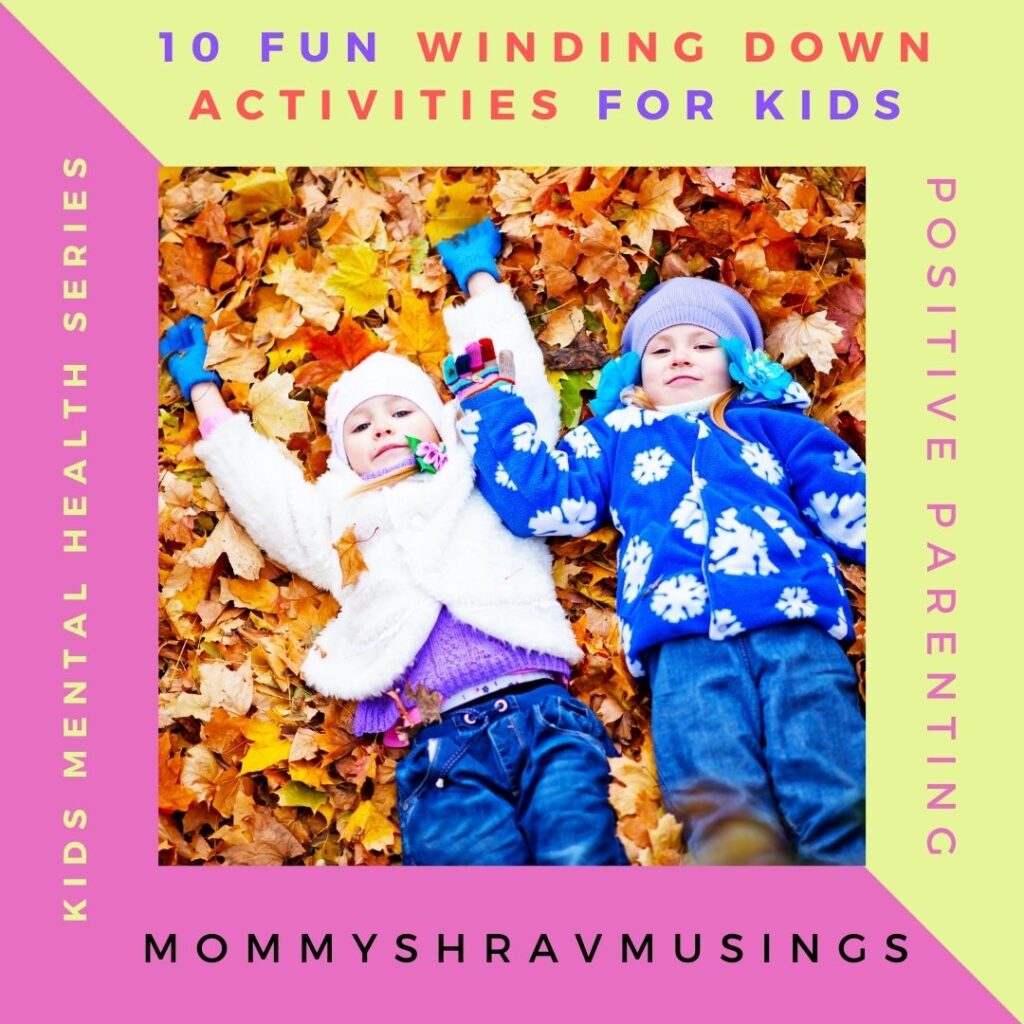 The textbook rules of setting up a bedtime routine, reading a book, listening to music, or suggestions like that never helped in our case. So, I had to take additional help from the internet and use those tips to make my kid fall asleep. I am listing down a few tips that worked for me and my family.
Winding down activities and tips:
Initially, when we tried to put the child to bed separately, it never helped as my kid used to think that he was missing out on the fun and used to get up every 10-15 minutes or so. So, I decided to join him for the winding down activities, as it will also help me relax a little after finishing the kitchen work in the hot sultry Chennai weather.
Have a running race or trampoline jumping race:
In order to physically exhaust my child, we started working on various physical activities (like – running, skipping the rope together, doing the jumping jacks on the trampoline, or running up and down the stairs) until we both became really sweaty and tired. These are meant to be fun activities between the two of us.
2. Starting our nightly rituals together.
We both start our nightly rituals together. We brush our teeth together, and at times, I will ask my kid to brush my teeth to add to the fun elements of our night rituals. Then we will have a race as to who would change into our night clothes faster. Adding all these fun elements into our nightly rituals makes my kid look forward to spending time with me at the night
3. Reading together:
Though we love to read together, at times, all we want to do is slouch around and listen to someone doing the talking. So we prefer audible books or some youtube video series, where there would be read aloud without any ad breaks.
4. Dancing together:
My kid loves to dance, and sometimes, all he wants is to dance to his heart's content for a few songs. I just let him do that without bothering to see who is watching us. Sometimes, I also join him in his impromptu dance sessions.
5. Looking at our magic jars:
We have built a mindful jar full of glitter and water. We love looking at it till the time all the glitter settles down. It has a nice magical effect of calming our minds. Most of you would have tried these snow globes at one point or the other. We used the glass jar at home as our DIY.
6. Doing some stretches and Yoga together:
Doing some stretches and practicing calming yoga poses with deep breaths would calm down any person. This will calm the excited kid's mind easily, and ending that with meditation or shloka chanting for a minute will really put the brakes on the ever-active kid's brain so that it can take some rest.
7. Cuddle time:
After stretching, we just try to cuddle together and do some silly talking without much meaning or rhymes. We sometimes sing together too, without any rhythm or music. We play the tickle games together. Just cuddling each other and telling my kid how much he means to me and what he did well on that day fills him with a positive mood, and he will fall asleep easier.
8. Counting backward:
Counting backward always tires one's mind, and that's the far easiest technique to follow with the kids. And I use this as the last option with my kid.
9. Listening to Music together:
We listen to soothing melodious music, which can be instrumental or songs, after switching off the lights in the bedroom. A few of my kid's favorite songs are kept in the loop on the mobile. Of course, these favorites change with time, so we need to keep ourselves updated with his current favorites.
10. Massaging the legs:
My kid loves me to massage his legs with oil everyday night. So this is the last step of our daily night rituals. After we started implementing all the above steps and closing them with the massaging started putting my kid to bed earlier than we had seen.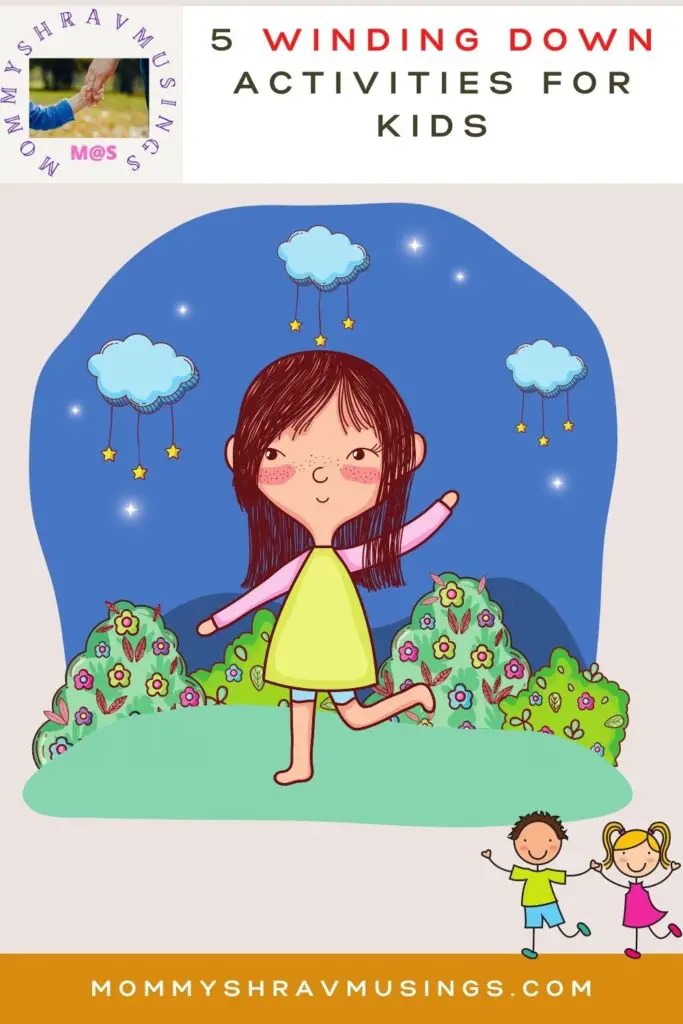 So, these are our 10 funny and bonding winding-down activities for kids they would fall in love with. What about yours? What calming or winding-down activities do you follow at home? Please do comment.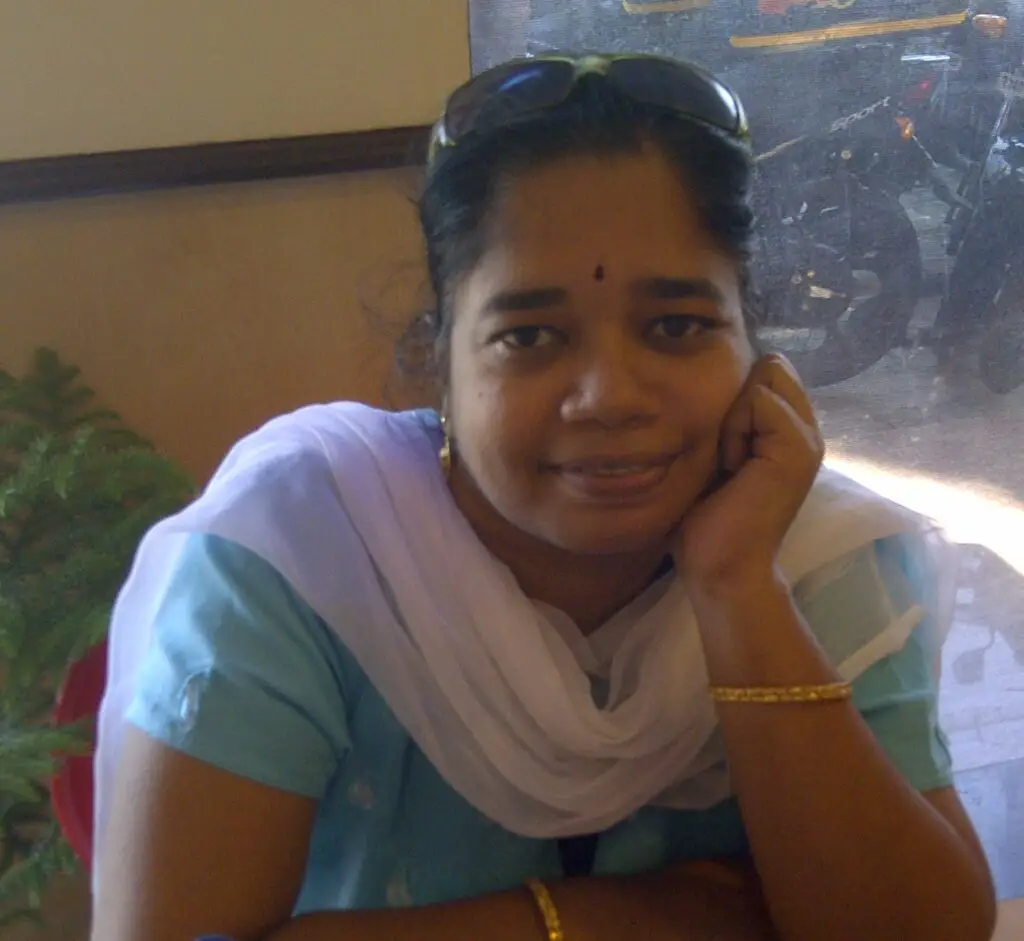 Suhasini, IP, is the Author of the book "Practical Tips for Kids Mental Health." As a certified kids and parents life coach, she helps/guides you toward a happy family life for your kids. She firmly believes, that "Emotionally Happy Kids of today are the Mentally Strong and Happy Citizens of tomorrow." Let's make the world a happy and beautiful place for our kids to thrive.