Score Big This Holiday Season with the Perfect Basketball Gifts for Teenagers!
The holiday season is upon us, and if you have a basketball-loving teenager on your gift list, you're in for a slam dunk of a good time. Whether they're a budding athlete, avid game fan, or can't get enough of those thrilling NBA matchups, we've covered you with 15 unique and fun basketball gifts for teenagers to make this holiday one for the record books.
There are lovely and fun basketball gift ideas other than just sponsoring the tickets to their favorite league's game. From personalized keepsakes to practical training tools, we've scoured the courts and the web to bring you the coolest, most creative basketball-themed presents that will have your teenager falling head over heels (or should we say, head over high-tops) in love with the sport they adore. So, grab your jersey, lace up your sneakers, and get ready to score major points with these fantastic gift ideas that are a slam dunk for any basketball enthusiast. Let's jump right in!
Fun Basketball Gifts for Teenagers.
Personalized Basketball:
A basketball with their name or a custom design can create a unique and cherished gift. Different designs and colors are available both on Amazon and Etsy. You can even engrave your love message for your teen, and they will remember your sentiments forever. This ball is designed as a keepsake and will keep inspiring forever in their life. Though it can be used outside, the message might get erased over time.
2. Basketball Hoop Mug:
Get them a mug that looks like a mini basketball hoop, complete with a tiny basketball they can use to shoot marshmallows or other small items into the hoop. You can bring out the sudden joy in their faces while serving their breakfast, and they will never miss shooting cereals or marshmallows into the tiny hoop. This gift is available on Etsy and Amazon in different colors.
---
3. Basketball Backpack:
A backpack designed to carry basketball gear, complete with a ball holder and compartments for shoes and clothing. It will have different compartments to store the balls, shoes, and clothes. Your teen will be more likely to fall in love with this bag that they will love to use it daily. Different models and colors are available on Amazon and Etsy. Rates vary depending on the models.
---
4. Basketball Arcade Game:
A mini basketball arcade game for their room can provide hours of fun and practice. Single-hoop or multi-hoop models are available along with electronic scoring. These sets are available on Amazon as well as Etsy. Your teen will fall in love with their basketball arcade, and they love to invite their friends whenever they feel like it. The additional advantage of this model is that it can be easily folded and stored when not in use.
---
5. Basketball Dribble Trainer:
One of the best training tools available in the market for anyone who wants to excel in the basketball game. With the adjustable arms to different heights, make workouts dynamic and mimic a defender guarding you. This is easily portable and fits into the backpack; you can use it indoors or outdoors. This product is easily available online on Amazon, Etsy, and other sports equipment sites.
---
6. Basketball Training Equipment:
Different training equipment like shooting aids, handle grips, and straight shooting grips are available to get the perfect shots into the basket. These products help you get your shots right and build the coordination of your hands and shoulders, maintaining the throw. All these products are available on Amazon.
---
7. Basketball Night Lamp:
This 3D basketball night lamp creates a 3D effect in dark rooms, and with a remote, one can change the colors of this lamp to suit their mood. The light intensity can also be dimmed or increased depending on the mood. Different models are available on Amazon and Etsy and will be a perfect gift for your teen's room.
---
8. Basketball Room Decor
Different options are available in case your basketball-loving teen wants a makeover for his room. You can gift them basketball-themed duvet covers, headboards, and rugs. All these are available on Amazon, Etsy, and other online shopping sites.
---
9. Basketball Wall Art:
Decorate their room with basketball-themed wall art or posters of their favorite players. Different options are available in the form of their favorite players, the player's jerseys or inspiring quotes about the game, and funny posters. These wall decors are available on both Amazon and Etsy and here I am giving only a sample.
---
10. Glow in the Dark Basketball:
This is the ideal gift for all basketball lovers across ages. One will have a completely different experience with a basketball game with friends and family at night. Perfect for bonding during the camps and vacations or on weekends. This ball will pull away the entire family from gadgets. Different models and colors are available on Amazon and Etsy.
---
11. Ceiling Swish – Indoor Basketball hoop:
CeilingSWISH is the original ceiling toy basketball hoop for your teen who likes to play the game even when they are relaxing. This game will allow them to shoot hoops safely from their bed or any place. We can replace the hoops hanging on the doors with this one, and it is safe for all ages. This product is available on Amazon.
---
12. Basketball-themed phone accessories
As these days teens are always with their mobiles, it's a good and fun idea to give them basketball-themed phone accessories that are trendy and eye-catching. Different options are available, like AirPods, phone cases, and phone stands. These options are available on both Amazon and Etsy, and you can choose them based on your teen's interests.
---
13. Basketball Books:
Books are always the best option to gift your teen, and that too now, with the audible and Kindle, it's easier for them to read, especially the biographies of famous basketball players, and get inspired. They will definitely learn the most important life lessons by reading these books. I am listing some books here; still, many are available on Amazon.
Shoot your Shot – a sport-inspired guide to living your best
My Losing Season – A Memoir by Pat Conroy
Stuff Basketball Players should know by Dick Devenzio
Basketball Biography Books by Clayton Geoffreys
Basketball Greatest Stars by Michael Grange
---
14. Basketball Apparel:
We can choose or customize your teen's favorite team jerseys with their names. You can order a personalized basketball jersey with their name and preferred number. We also have the option of gifting the sneakers. High-quality basketball shoes from a famous brand can be a fantastic gift for a serious player. This product, with different color options, is available on both Amazon and Etsy.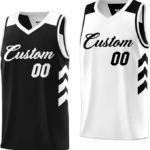 ---
15. Basketball themed Jewellery:
Celebrate your teen's love for the game by gifting them fun and trendy basketball-themed jewelry in the form of necklaces, headbands, or even bracelets. Different options are available for both boys and girls. All these models are available on Etsy as well as Amazon.
Consider the teenager's interests and preferences when choosing the perfect basketball gift. Whether they're casual fans or a dedicated player, something on this list will likely make them fall in love with basketball even more.
Parting Thoughts:
I hope you've found the perfect game-winning gift idea that will make your teenager smile. Whether you opt for personalized mementos to cherish, stylish gear to flaunt, or tools to help them improve their skills, you're not just giving a gift; you're fostering their love for basketball and encouraging them to reach for the stars, both on and off the court.
This holiday season, remember that the best gifts aren't just about the item itself but the thought and love behind them. So, grab that basketball-themed gift, wrap it up with care, and watch their eyes light up as they unwrap a piece of their basketball dreams.