Ah, the Thanksgiving season—when the air grows crisper, the leaves don their vibrant hues, and the anticipation of a sumptuous turkey feast fills our homes with warmth. It's a time to reflect on our blessings and create cherished memories with loved ones. But if you're a parent of teenagers, you might be all too familiar with the challenge: getting those ever-elusive teens to join in on the Thanksgiving rituals and traditions.
We get it. Convincing your teens to step away from their screens, friends, and busy lives to embrace the Thanksgiving spirit can often feel like attempting the impossible. Perhaps they've mumbled something about being "too old for this" or rolled their eyes at the mention of a family dinner. As parents, we've been there, trying to strike a balance between honoring traditions and understanding our teens' evolving interests.
That's precisely why we've put together this guide for Thanksgiving activities for teens — because we know the importance of making Thanksgiving engaging and enjoyable for teenagers. It's about more than just enticing them to the table; it's about fostering family bonding and creating moments they'll treasure for a lifetime.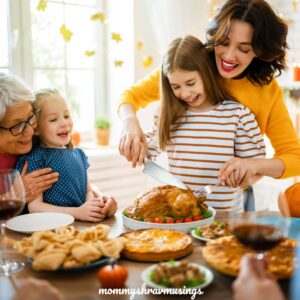 Fun Thanksgiving Activities for Teens
Thanksgiving is a time for family, gratitude, and togetherness, so it's important to plan activities that promote these values while also being enjoyable for teenagers. Here are 15 Thanksgiving activities that teens are likely to enjoy:
1. Volunteer Together as Family:
Thanksgiving is the time to express gratitude for what we have in life. It's also the time when different organizations will look for volunteers to lend their hands in their activities. It can be managing their soup kitchens, delivering much-needed groceries for the homeless people, or helping at the senior day-care centers.
So you can leverage these opportunities and spend time together as a family and volunteer your time at one of these centers so that teens will understand the need and importance of giving back our time and resources to the needy people around us. It will teach them the importance of having Gratitude Mindset in one's life.
2. Thanksgiving Recipe Cook-Off:
Turn cooking the Thanksgiving meal into a friendly competition where teens can team up with parents or siblings to prepare dishes. They can even develop creative twists on traditional recipes, which can be introduced to friends and families during these holidays.
3. Decorate Together:
Involve teens in decorating the house for Thanksgiving, from setting the table with handmade place cards to creating a festive centerpiece. You can split the responsibilities of decorating the home, inviting all the family members, and cooking the meal.
Family members must make a plan and budget for different activities and stick to it while implementing the program. That way, the tweens and teens will learn all the various aspects of managing the house and celebrating together.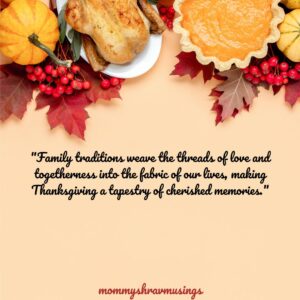 4. Family Gratitude Circle:
Start or end the Thanksgiving meal with a gratitude circle, where everyone takes turns sharing something they're thankful for. Teens will appreciate the opportunity to express their feelings with close family members. Ensure that only positive words are spoken during this time, and no judging or criticizing is allowed.
5. Turkey Trot:
Participate in a local turkey trot, organize a family 5K run, or walk in the neighborhood before the big meal. It's a healthy and fun way to start the day. The turkey trot or the 5K run is much needed to digest the heavy Thanksgiving meal. It will also allow all the family members to improve their endurance skills.
6. Thanksgiving Day Parade:
Watch the Macy's Thanksgiving Day Parade together on TV, or if you live near a city that hosts a parade, consider attending it in person. Attending the parade in person is always better as it will allow the family to bond over long drives and at the parade.
Here are some wonderful quotes to instill thankfulness in your kids and teens.
7. Outdoor Activities:
Organize a friendly game of touch football, frisbee, or a nature hike to enjoy the fall weather. You can even arrange different competitions like bike races, sack races, slow cycling, etc. It will be interesting for teens to spend time outdoors in the beautiful weather and play a few games just like they used to do earlier.
8. Thanksgiving Movie Night:
Have a Thanksgiving-themed movie night featuring classics like "A Charlie Brown Thanksgiving" or family favorites like "Planes, Trains, and Automobiles."
9. Storytelling Hour:
Invite grandparents or older family members to share stories and memories from their past Thanksgiving celebrations. Encourage everyone in the family to share their favorite family stories or memories around the dinner table. You can even encourage teens to interview older family members and record their stories and experiences.
10. Photo Scavenger Hunt:
Provide a list of Thanksgiving-themed items or scenes for teens to photograph, promoting creativity and exploration. You can also create a scavenger hunt with Thanksgiving-themed clues that have to be photographed by teens, and it will lead to a hidden "turkey" or a treat.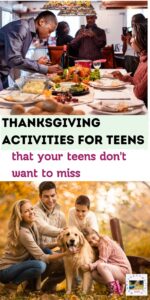 11. Thanksgiving Games:
Play a game of charades using Thanksgiving-related words and phrases. You can also create a trivia quiz with questions related to the history and traditions of Thanksgiving. You can also provide teens with exciting board and card games while waiting for dinner.
12. Thanksgiving Playlist:
Music and holidays go hand-in-hand. So try to create a collaborative Thanksgiving playlist with input from all family members, including the teens, and play it during meal prep and dinner. You can even dance around to the peppy tunes in this playlist and get it recorded, as it will become a good memory that your teen will cherish in the future.
13. Random Acts of Kindness:
Challenge the family, including teens, to perform acts of kindness for others in the community during Thanksgiving. Some examples could be:
Calling a family member who is alone and talking to them for a while.
Visiting a senior neighbor to find out whether they require a helping hand?
Holding the door open in a mall/restaurant for a struggling mother or an elderly person
Leave a Thank You note to those who can't spend these holidays with their families.
Leave a cookie box or a chocolate bar on the cars of Policemen, Firemen, and others who serve the community all the time.
Here are some fun ways to build the attitude of gratitude in your teens and stop them from behaving like Entitled Teens.
14. Create a Memory Book:
Encourage teens to document the Thanksgiving celebrations each year by taking photos and keeping a memory book or scrapbook.
They can even convert these photos into a family movie or calendar for next year, which can be shared with friends and family members.
15. Gratitude Jar:
Have each teen write down something they're thankful for on a slip of paper and place it in a jar. Read the notes aloud during dinner.
As a family, you can also start writing in gratitude journals to write down what you're thankful for and reflect on your day. Here are some gratitude journaling prompts for you to get started on inculcating this new and wonderful hobby.
Remember that the key to a successful Thanksgiving celebration with teens is to create an inclusive and engaging environment where they feel like active participants. These fun Thanksgiving activities for teens are designed to engage teens, promote family bonding, and make Thanksgiving memorable and enjoyable for everyone.
Parting Thoughts:
In the hustle and bustle of modern life, it's easy for teens to become absorbed in their own worlds and for family traditions to take a back seat. However, Thanksgiving provides a golden opportunity to bridge the generation gap and strengthen family bonds. By introducing engaging and enjoyable traditions, parents can create lasting memories and instill the true spirit of gratitude in their teenagers. And that's where our guide filled with fun Thanksgiving activities for teens will be helpful for you.
So, as you prepare to celebrate Thanksgiving this year, remember that it's not about the perfect turkey or flawless decorations; it's about the love and connection that fill your home. Embrace these traditions, adapt them to your family's unique style, and watch as your teenagers not only participate but wholeheartedly embrace the holiday spirit.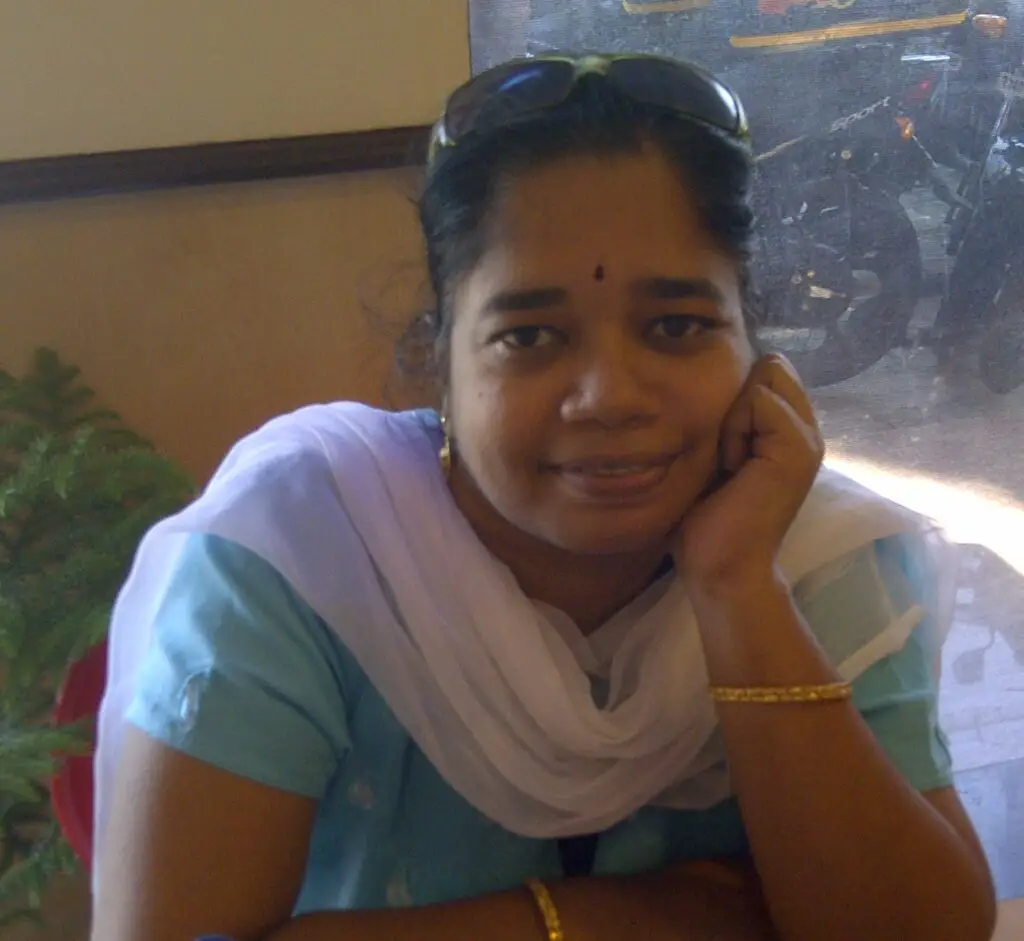 Suhasini, IP, is the Author of the book "Practical Tips for Kids Mental Health." As a certified kids and parents life coach, she helps/guides you toward a happy family life for your kids. She firmly believes, that "Emotionally Happy Kids of today are the Mentally Strong and Happy Citizens of tomorrow." Let's make the world a happy and beautiful place for our kids to thrive.