Unlock the Wonder of Autumn: Fall Bucket List for Kids and Toddlers.
As the summer heat gives way to the cool, crisp autumn days, parents everywhere are presented with a golden opportunity to create cherished memories with their children. Fall is a magical season that beckons us to step outside and revel in the wonders of nature's transformation. It's a time when the world around us becomes a vibrant canvas of reds, yellows, and oranges, and the air is filled with the earthy scent of fallen leaves.
In this article, we invite you to embark on a journey of discovery with your kids and toddlers as we unveil a carefully curated "Fall Bucket List for kids and toddlers." These activities are about having fun, fostering essential life skills, and providing valuable learning experiences that will shape your child's development.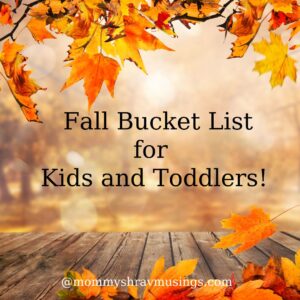 Why these Fall Activities are a Must for Kids and Toddlers?
Here's why you should start taking your kids and toddlers out this fall and try out the activities from our suggested "Fall Bucket List for kids and toddlers":
a. Encouraging Exploration: Fall offers a unique opportunity for children to explore their natural surroundings. Whether searching for different types of leaves during a scavenger hunt or picking apples from a tree, these activities encourage curiosity and a connection to the world around them.
b. Learning Through Play: Many of the activities on this list blend play and education seamlessly. From baking fall treats to creating art with leaves and pinecones, children can develop fine motor skills, creativity, and a love for learning.
c. Nurturing Creativity: Fall crafts and DIY Halloween costumes allow children to express their creativity. These projects encourage problem-solving and decision-making as they plan and execute their designs.
d. Fostering a Love for Nature: Bird-watching, nature hikes, and stargazing introduce kids to the wonders of the natural world. They learn about birds' migration patterns, the changing seasons, and the mysteries of the night sky.
e. Building Family Bonds: These activities offer precious opportunities for quality family time. Whether sharing ghost stories around a campfire or attending a fall festival together, these experiences strengthen family bonds and create lasting memories.
Here are some impromptu gratitude games you can play with your kids this holiday season.
Tailored Fall Bucket List for Kids and Toddlers:
1. Leaf Scavenger Hunt:
Create a list of different types of leaves to find, and go on a scavenger hunt in your local park or woods. Learn about the trees they come from as you collect them.
For kids, give the list of the names or types of leaves and let them find out. For toddlers, simplify the list to include just a few common leaves like maple and oak, or give them the drawings of the leaves.
Help the kids collect the leaves, discuss their colors and textures, and discuss various types of trees.
2. Pumpkin Patch Adventure:
Visit a local pumpkin patch to pick out the perfect pumpkins for carving or decorating. Many places also offer hayrides and corn mazes.
Let your toddler pick out a small pumpkin they can carry easily. Watch for sharp stems and guide while exploring the patch.
3. Apple Picking:
Head to an apple orchard and let the kids pick their own apples. You can let them feel the texture of apples and show them how to determine whether they are ripe or not.
Hold your toddler and let them reach for low-hanging apples. Show them how to twist and pick the apples gently.
You can later use all the apples picked by kids or toddlers to bake apple pies or to make caramel apples. You can even involve the kids in this process as well.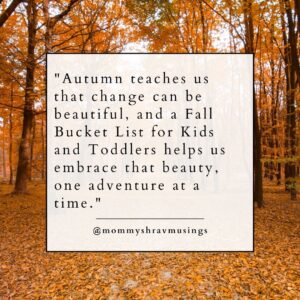 4. Nature Art:
While visiting the local parks or while going on long walks, ask the kids and toddlers to collect leaves, acorns, and pinecones.
They can use them to create fall-themed art projects later. You can make leaf rubbings, pinecone bird feeders, or acorn animals, which you can use in your Halloween or Thanksgiving decor.
But while the toddlers are working on these craft projects, supervise closely to avoid small parts going into mouths, and use only non-toxic glue and toddler-friendly colors.
5. Scary Story Night:
Host a family scary story night around a campfire or in the living room with a flashlight. Encourage kids to come up with their own spooky tales.
Share age-appropriate, non-scary stories with your toddler before bedtime, perhaps with friendly Halloween-themed books.
6. Fall Baking:
Bake delicious fall treats together like pumpkin pie, apple crisp, or cinnamon sugar donuts. Let the kids help with mixing and decorating.
Involve your toddler in simple tasks like pouring ingredients or stirring the batter. Let them decorate cookies or cupcakes with guidance.
7. Fall Science Experiments:
Conduct simple fall-themed science experiments, such as the classic "apple volcano," or observe how leaves change colors.
Engage in age-appropriate experiments like mixing colors with fall leaves or exploring the concept of sinking and floating with apple slices.
8. DIY Halloween Costumes:
Start working on Halloween costumes early, encouraging creativity and craftsmanship. Gather materials and spend quality time crafting together.
This is the perfect time to introduce your kids to stitching and sewing. You can use the kid-friendly needles and teach them simple techniques.
For younger kids, you can start with simple costume ideas like animals or favorite characters that are easy to assemble.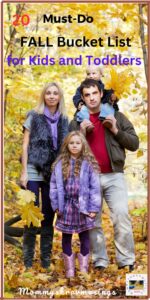 9. Harvest Festival:
Look for local fall festivals or organize your own mini-harvest festival with games, crafts, and autumn-themed snacks suited for toddlers and kids.
You can use age-appropriate games like pumpkin rolling, apple stacking, pumpkin shooting, apple segregation based on the color of the apples, etc.
10. Leaf Pile Jumping:
Rake up a big pile of leaves in the yard and let the kids jump in. It's a classic fall activity that never gets old.
Supervise your toddler closely as they jump into a small leaf pile. Ensure there are no sharp objects in the pile.
This is one of the most favorite fall season activities across all age groups.
11. Bird Watching:
Set up a bird feeder and bird-watching station. Keep a journal of the bird species visiting your yard during the fall migration.
For the kids who are interested in craft projects, you can loop them in for building a DIY bird feeder, too.
Teach your toddler to observe birds from a safe distance. Use child-safe binoculars if possible.
12. Fall Movie Night:
Choose family-friendly fall movies like "It's the Great Pumpkin, Charlie Brown" or "Hocus Pocus" and have a cozy movie night with popcorn and blankets.
Choose shorter, animated fall-themed movies like Bambi, suitable for toddlers' attention spans.
Enjoy the movie night with your kids with popcorn and chips.
Here are some of the best camping movies that you can watch with your kids during your movie night.
13. Visit a Haunted House:
If your kids are a bit older and enjoy some spookiness, visit a kid-friendly haunted house or create your own spooky haunted house at home.
Skip this one for toddlers, as it might be too frightening. Instead, create a "not-so-scary" pretend haunted house at home with friendly decorations.
14. Garden Cleanup:
Involve kids in preparing your garden for winter. Teach them about the life cycle of plants and how they prepare for colder months.
Let your toddler help with gentle tasks like picking up fallen leaves or watering plants with a small watering can.
15. Fall Nature Journal:
Start a nature journal where kids can document the changing colors of leaves, draw wildlife pictures, and jot down their observations about the season.
Create a simple nature journal with drawings and stickers. Help your toddler make marks or drawings to represent their observations.
Here is the best list of read-aloud books based on Halloween themes for your babies and toddlers.
16. Thanksgiving Crafts:
As Thanksgiving approaches, engage in crafts that reflect gratitude. Create a thankful tree or make place cards for a special Thanksgiving meal.
Assist your toddler in making simple crafts like handprint turkeys or colorful leaf collages.
17. Nature Hike:
Go for a nature hike and encourage kids to collect and identify different types of leaves, nuts, and berries they find along the way.
Choose short, stroller-friendly trails and point out the beauty of nature to your toddler. Let them collect a few easy-to-handle treasures.
18. Stargazing:
Fall nights can be clear and crisp. Take some time to stargaze and learn about the constellations visible during the autumn months. Use a star chart app to identify constellations.
Lay on a blanket with your toddlers and look at the night sky, discussing the moon and stars.
19. Fall Storytime:
Visit your local library or bookstore for fall-themed story hours and pick out some fall-related books to read together.
Attend toddler-friendly story hours or read board books with fall themes.
20. Visit a Corn Maze:
Many farms offer corn mazes in the fall. It's a fun way to get lost in nature and enjoy some adventure.
For toddlers, skip the maze but enjoy the other activities like petting zoos or wagon rides on the farm.
Remember to tailor these activities to your child's age and interests, and most importantly, have fun and create lasting memories together during this beautiful season! Always supervise your toddler closely during activities and adapt them to suit their developmental stage and abilities.
Parting Thoughts:
Fall offers a tapestry of experiences that go beyond the vibrant foliage and pumpkin-spiced treats. It's a time for families to bond, children to learn, and memories to take root. With this Fall Bucket list for kids and toddlers, you are providing your children with a rich tapestry of life skills and knowledge. These experiences are the building blocks of their development—fostering curiosity, creativity, and a deep appreciation for the natural world.
So, as the leaves fall and the air turns crisp, dive headfirst into the magic of autumn with your kids and toddlers. Embrace the laughter, the messy baking sessions, and the wide-eyed wonder as your child gazes at the night sky. Let their eyes sparkle with delight as they jump into leaf piles, and their hearts warm with the joy of spending quality time together. The memories you create this fall will be like the leaves on the trees—colorful, unique, and forever etched in your family's story.
Happy autumn adventures to you and your little explorers!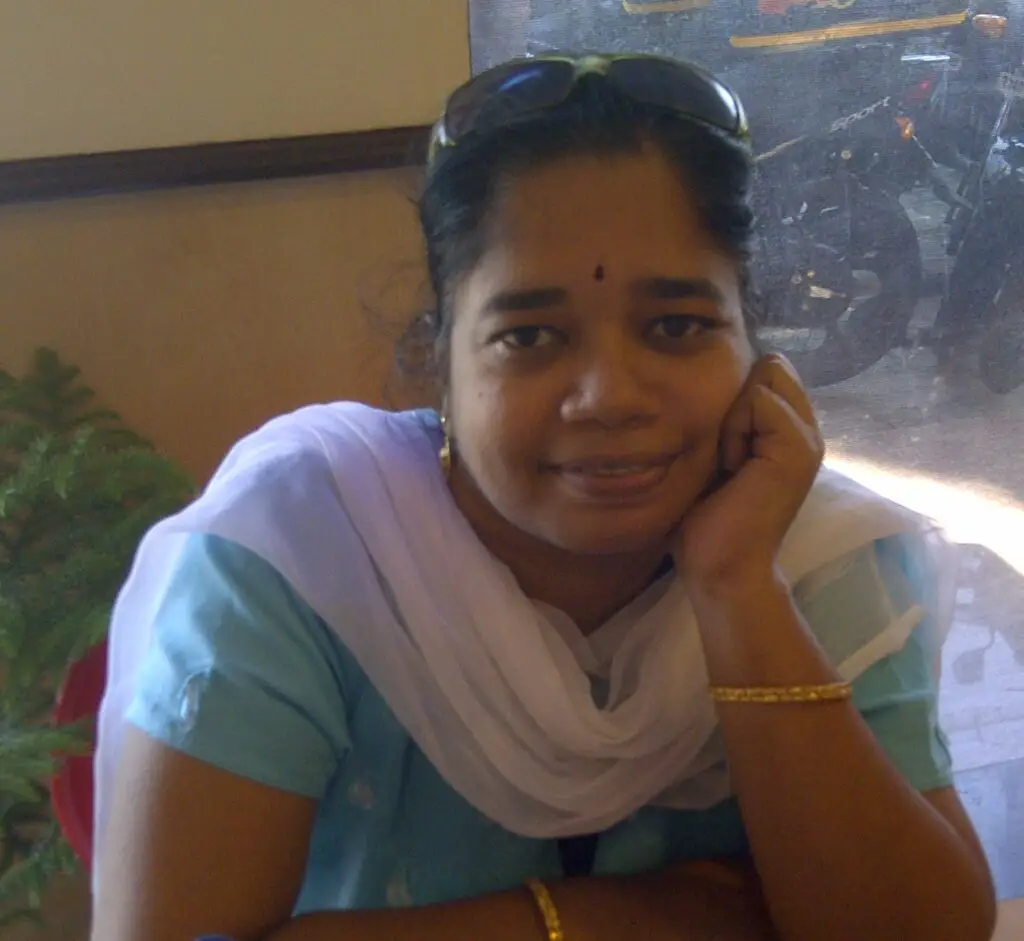 Suhasini, IP, is the Author of the book "Practical Tips for Kids Mental Health." As a certified kids and parents life coach, she helps/guides you toward a happy family life for your kids. She firmly believes, that "Emotionally Happy Kids of today are the Mentally Strong and Happy Citizens of tomorrow." Let's make the world a happy and beautiful place for our kids to thrive.