Now that sports academies are opening up slowly, most parents would be thinking and searching to admit their children into suitable sports classes or academies. But the sports academies or professional coaching is only for children eight years and above. Then, what is the next best option available for the younger children? The American Academy of Pediatrics recommends that children between 2-5 years play sports like Gymnastics, which develops their gross motor skills. And for older kids, depending on their interests, Gymnastics could be the best option.
Gymnastics is a sport and a physical activity too.
As they say, Gymnastics is the mother of all sports, and it's a comprehensive exercise program that teaches flexibility, balance, speed, and muscle coordination apart from others. Experts say this is the most demanding sport and requires a very agile mind and body to conquer this sport. Introducing this sport to children at a tender age will lay the foundation for their healthy lifestyle and future athletic career. Any sport requires strict discipline and a healthy body. It also helps build excellent mind and body coordination, essential for any sport.
Beginner gymnastics for kids would teach the child more about bare-body stretches, balancing, jumping, and hopping. At the same time, the advanced skills teach more body coordination activities using various equipment in the gym under the trainer's supervision.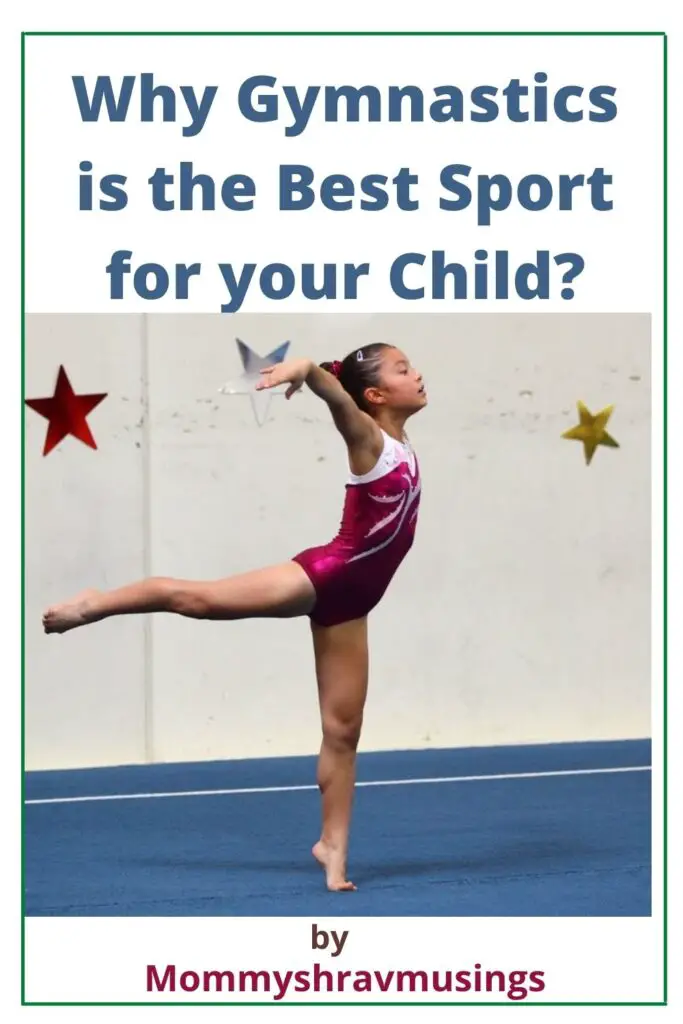 Since organized sports like cricket, football, or badminton require teamwork, and children below 6-8 years are not psychologically ready to play any team sport. So that's one of the main reasons any sports teacher or pediatrician would recommend Gymnastics as the best sport during your child's early years.
You might be interested in why Sports classes are a must for your Child.
7 facts about Gymnastics being the best sport for Kids.
1. Improves the Self Confidence:
Gymnastics teaches children to gain control over their bodies. The more they work on mastering their stretches, swings, and jumps, the more children will gain confidence. Their newly acquired self-confidence after completing different activities in the gym would get carried forward into their life outside the gymnastics center as well.
2. Overcomes the Fear Factor:
Children try out different equipment and different gymnastics activities, which will make them face their fears heads on. Hanging on a high bar, somersaulting, jumping high on the trampoline, etc., will teach them to conquer their fears. Coaches always lay out the plans and help the children overcome their fears step-by-step.
3. Teaches the Discipline:
Any sport teaches discipline to children. To master various gymnastics skills, children must exhibit high commitment, dedication, and hard work. Sometimes, these skills take months and even years to master. It's been proven various times that gymnasts are highly disciplined compared to other sports. This high discipline is because most gymnastics events are constantly plagued with accidents. Unless the gymnast is highly disciplined, he cannot master those events without mishaps.
4. Improves Spatial Reasoning:
Gymnasts keep moving in all the different angles and plains, which improves their spatial awareness. Doing gymnastics regularly improves the connections that work on logical and spatial reasoning in the brain. Children need a good foundation in spatial reasoning to understand and fair better in Geometry and solve the various mathematical equations. So that way, joining gymnastics would also improve the children's mathematical ability.
5. Builds Health and Strength
Children who start learning gymnastics at an early age tend to love the movement of their bodies. This means that they would be playing one sport or the other during their entire lifetime. Also, practicing basic gymnastics improves the body structure in the growing years, which gives children good bone strength and solid muscle. So, this sport helps the children eat healthily and stay fit.
6. Builds Mental Resilience and toughness
The free fall from the high bars or trampoline, only to get up and do it again, teaches the children to pick up and start again. It's tough to explain this concept to children over books and stories. But in gymnastics, this lesson is being taught without using many words. In any sport, making mistakes and falling are common. But to get back into the game, the sportsperson has to make a tremendous effort. In Gymnastics, the simple act of swinging and falling from the high bar, only to get there again, teaches the resilience required for any sportsperson.
7. Imbibes Social Skills.
Attending the gymnastics classes would help in building social skills within the children. These gymnastic centers allow the children to observe and mingle with the mixed age group children. So they will be able to find a role model to emulate in the future. Listening to coaches and talking/socializing with the other children in the class will make them respect others and understand empathy and compassion.
Last but not least, Gymnastics is always fun for the children. All the children love to swing, climb, jump, and hop. Regular participation in gymnastics would help release endorphins – the happy chemicals- and help improve the children's mood.
My Personal Experience with Gymnastics:
The best part of gymnastics is that it will be played only indoors. So it is weather independent and can be played at any point in time. Even during the pandemic, when all the sports academies have shut down, my child's gymnastics center has decided to go digital and started conducting online gymnastics lessons. That move helped my child stay fit and healthy during the pandemic. Otherwise, keeping the sporty kids at home healthily and happily isn't easy.
My child started with the basic stretches and other fitness routines in the online classes and then graduated towards conquering his fear of doing different events. His confidence increased after he had accomplished the handstand and started using the parallel bars and trampoline.
The practice and hard work required in gymnastics have exposed him to the hard work needed to excel in any sports field. It also has improved his resilience levels. Now, Shrav has stopped reacting to failures and started repeatedly trying until he succeeds. What else would I require as a parent from my child?
So, this is my experience with Gymnastics as a sport and physical activity for kids. This is what the research also says about this game, Gymnastics. In case if you have tried gymnastics for your kids already, please let me know your comments.