The Story of Story is one of the first books that I picked up as soon as Blogchatter launched their Ebook library this year. I had almost finished the book in a single sitting (barring talking to my kid in between). Though there are a lot of books I picked up in this carnival, I am doing the reviews of the books a little slowly, as I want to really read and cherish some of the books that I really loved. People who know Ravish's writing style and knowledge will agree with my point. His style never puts the reader down.
About the Book:
The Story of Story is about how to weave your story, which will make the readers forget the sense of time and get immersed in the book. So, Ravish has decided to write a detailed book covering varied aspects of storytelling.
Though he had a good draft done on his laptop, due to unforeseen circumstances, his entire work got spoiled. But being a true fighter, Ravish just couldn't give the excuse and sit back. But, he can finish this book within two days, that too on mobile; I can tell you the amount of hard work he has put into getting this book across. His desire to tell this story is so strong and evident that it had to come out, even after getting typed on the mobile.
My Review of the Book "The Story of Story"
Reviewing this book is like a monkey dancing in front of a King. Honestly, I learned so much from Ravish, and me trying to review his work is a big daunting task for me on two counts. One, I just can't stop if I start listing down the things that I had picked up from this book or from Ravish. Secondly, I am not even sure whether I can do good justice to this book by reviewing it. That's the reason why I had put this review off for so long.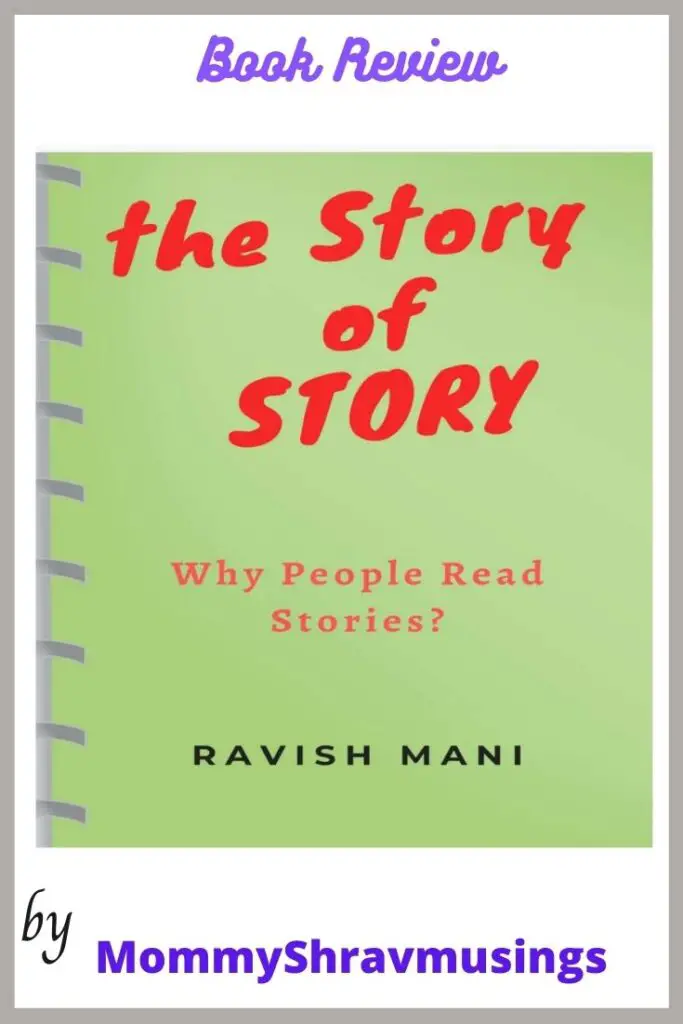 My key learnings from the book are so many, but let me capture the ones that moved me.
"Every story is a story of desire. With desire, two kinds of forces appear: the one that wants the desire to be fulfilled and the other that opposes the fulfillment of the desire. The description of conflicts between these two forces gives you a story."

The Story of Story by Ravish Mani
The above statements are the starting lines of the book. These two lines reminded me of the days when I started my Shravmusings blog along with my kid. As a parent, I am enthusiastic about sharing little anecdotes or mischiefs that my kid is up to to the entire world. But my inner voice used to remind me that no one would be willing to read about a toddler and his thoughts. So I used to convert those simple plain thoughts into funny anecdotes. That means the entire Shravmusings blog stands true to the book's beginning words, doesn't it?
"A story in its simplest form is a connection of cause and effect. And that is exactly how humans think. So powerful is human's impulse to find meaning that it sees them even when they're not there"

The Story of Story by Ravish Mani
The above statement is such a simple fact. But thinking deeply will reveal the entire gamut of storytelling. Once we understand this concept, reading the books will also give you a totally different experience. Instead of getting immersed in the story as a simple reader, we now tend to look for more meanings in the story – the cause and the effects too.
"It's necessary to render the precise experience necessary to cause an emotion, then take the audience through that experience. The causes
don't need to be immediate & present in that scene only."

The Story of Story by Ravish Mani
I only write short stories and never build much of a climax in my stories. After reading Ravish's above statement and further explanation and examples, I felt I should also use it appropriately in my stories. In fact, I told some of this at a high level to my child, who has started writing stories recently. Believe me or not, he is able to understand this statement with the help of the example given and trying to implement it in his writing.
That's the reason why I would love to say "The Story of Story" is a bible for all aspiring writers. Every word and every line is a gem in this book for aspiring writers. I hope you all now agree that writing a review for this book is the biggest adventure for people like me.
His miscellaneous tips tell us what not to keep in mind while writing a story and the pitfalls to look for while editing our own story later.
Before closing the review, I want to really highlight the philosophy of Ravish. He likes to only spread his knowledge to all and doesn't impose any limits on that. One can really get a complete understanding of it through his "Uncopyright" in the book. How many authors will have the heart to say you can use his hard work in any manner you like?
About the Author:
Ravish is a famous blogger and mentor for most of the bloggers in the blogging world for a long time. My interactions with him have started two years back. He never stops amazing me with his knowledge and dedication to the work. His writings and tips always motivate fellow writers and bloggers. With his support only, I was able to publish both my books this season. One can find his blog Booksasisee and one can reach him at the same id @booksasisee on Twitter, Instagram, and Facebook too.
You can download this book, The Story of Story by Ravish Mani, at the Blogchatter Ebook Library. Also, my book Shrav vs Sana got released during the same carnival.