Zero Day by S. Hussaini Zaidi is a cybercrime thriller that pinpoints how a cyber-attack can cripple the city. I received this book for review as a part of the Blogchatter Review program, and the book blurb made me pick this book from the entire list of books in Blogchatter.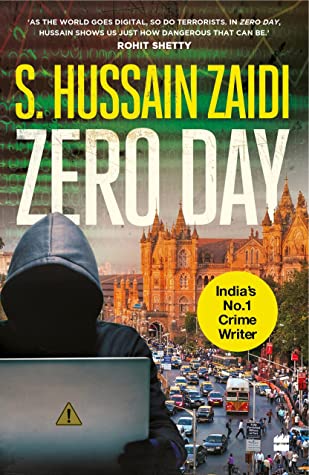 Book Details:
Book Name: Zero Day
Author Name: S. Hussain Zaidi
Publisher: Harper Collins
Genre: Cybercrime thriller
Available at: Amazon (Kindle and Paperback), Good Reads
Pages: 216
Book Blurb:
Mumbai is in a state of chaos. All traffic signals across the entire city have stopped working.
Shahwaz Ali Mirza, head of the Maharashtra Anti-Terrorism Squad, received an anonymous email claiming it to be a Distributed Denial of Service (DDoS) attack. He quickly puts together a crack team that includes his protege, IG Cybercrime Vikrant Singh and gets to work trawling the dark web for more information on this mystery attack. However, a move to bring forward the hacker backfires, leading to a second, deadlier attack on Mumbai's lifeline, the railway system.
It is their first brush with cyberterrorism: a zero-day vulnerability in the Indian government's system that could bring the country to its knees. Racing against time and investigating a case unlike any other, Mirza and Vikrant face the most dangerous mission of their lives on Zero Day.
My Thoughts on Zero Day
This is the second book that received a 5-star rating this year from my end. The reason for this 5-star is that this book never deviated from the plot, and the pace is not too rushed, nor was the story diluted anywhere to heighten or lower a particular character.
Generally, in most thrillers, we see the super-hero or super-villain traits in one of the characters. But neither the main protagonists nor the other parties were praised too much. All the characters were down-to-earth and were easily relatable.
As the story was set in Mumbai, sometimes Vikrant's (IG Cyber Crime) behavior reminded me of Manoj Bajpayee in the Family Man series on OTT. I am mentioning this point here to mention how naturally all the characters were developed in this book.
Mr. Zaidi's writing style is crisp and to the point. Nowhere was the story exaggerated, nor was unnecessary drama built up to lift some characters. In some places, we couldn't stop ourselves from chuckling while reading about the tricks and cunning used to proceed further in this cybercrime investigation.
When people hear that it's a cybercrime thriller, they lose interest because some books contain too many technicalities. But Mr. Zaidi has used the technical stuff that's only relevant to the story and explained that compared to the physical investigations. That added additional feathers to this book. So this book can be read by anyone without technical expertise.
About the Author:
S. Hussain Zaidi is an investigative, crime, and terror reporting veteran. His previous books include Black Friday, Mafia Queens of Mumbai, Dongri to Dubai, Byculla to Bangkok, Mumbai Avengers, and Eleventh Hour, some of which have been adapted into Bollywood films. Hussain Zaidi lives with his family in Mumbai. You can follow him on social media here:
Twitter: Shussainzaidi
Instagram: S.hussainzaidi
Youtube: Hussainzaidibooks
This post is also a part of the Blogchatter Book Review Program, and I got a free physical copy of the book in exchange for an honest review from my end. My thinking is nowhere influenced by anyone or anywhere. You can read my other reviews here.