I got this book as a part of the Blogchatter Book review program, and though I had seen many books by Shilpa Suraj earlier on Amazon, I never got a chance to read her books and thought this was my chance to read her book. Hence I grabbed this opportunity to do the book review of "The Right Kind of Wrong" by Shilpa Suraj.
Book Details:
Book Name: The Right Kind of Wrong
Author: Shilpa Suraj
Book Genre: Romance, Romantic Suspense
Book Available at Amazon Kindle
Book Blurb:
He's dangerous, damaged, and doomed, but he's hers…
With no name, no medical history, multiple gunshot wounds, and enough security to rival the Prime Minister's, Dr. Aria Dubey's new patient is something more than she asked for. And everything she might need.
Intelligence Officer Karan Bhatnagar has only vengeance on his mind. Nothing will stop him from seeking justice for his murdered parents.
Not even almost losing his own life. And indeed, not the doctor who healed but couldn't save him. The woman he can't afford to fall for. And the killer's next target.
There's only one thing left: find the killer and end him before he ends them. Will Karan and Aria risk everything for a love that is all kinds of wrong? And yet, it is the right kind of wrong.
Related Read: Bloggers Unplugged Book Review
My Thoughts on The Right Kind of Wrong:
This is my first book by the author. Her narration style is very fluent and easy to understand. This book is the enemy becoming lover kind of book. But keeps the reader hooked with no unnecessary deviations or turns.
Dr. Aria starts treating an unknown patient, Karan Bhatnagar. He seems to be a hazardous and angry young man. The circumstances under which these protagonists get to know each other are exciting and cinematic if you would like to call it that way.
The author has quickly revealed many different levels in both the main protagonists. We can never expect a new dimension of their personality, and every twist comes with a surprise. This includes even the other protagonists in the novel too.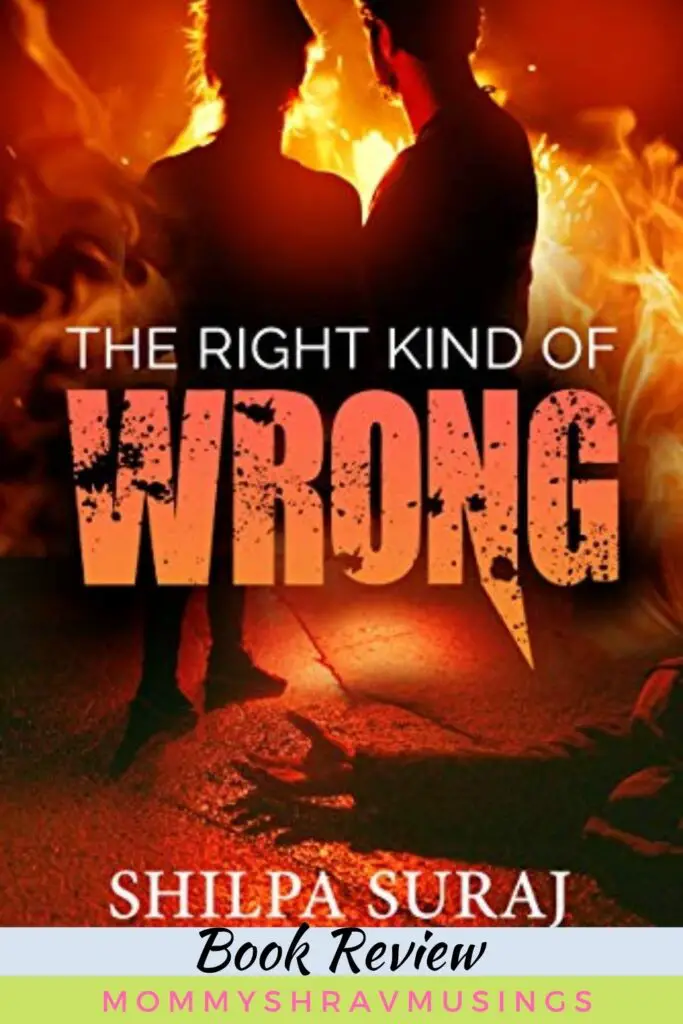 What I liked more in this book is the crisp manner in which every new angle has been dealt with and how the author has kept the readers hooked till the last page. After this book, I read a couple more books from the author. Significantly, the Kapoor and Sons series. They are also equally entertaining. Except for a few editorial mistakes here and there, the book overall is excellent and fun. I wouldn't say this is a fast and breezy romance as this book contains nerve-biting action scenes and high emotional dramas. Overall, a good read for one of those lazy weekend afternoons.
Related Read: My Life in Full Book Review
About the Author:
Shilpa Suraj wears many hats – corporate drone, homemaker, mother to a fabulous toddler, and author.
An avid reader with an overactive imagination, Shilpa has weaved stories in her head since childhood. Her previous stints at Google, in an ad agency, and as an entrepreneur provide color to her present-day fiction and non-fiction stories.
Her Social handles are given below:
Website: Shilpa Suraj
Instagram: @ShilpaSuraj
Twitter: @ShilpaSuraj
Facebook: @ShilpaSuraj
This post is also a part of the Blogchatter Book Chatter Program, and I got a free digital copy of the book in exchange for an honest review from my end. My thinking is nowhere influenced by anyone or anywhere.