Everyone would have heard about Indra Nooyi in one form or the other. She is one of the well-known and most admired CEOs of the world. So, when her memoir was released recently, I grabbed that book immediately for my next read. I finished reading it last weekend and was in a big fix as to how to start reviewing this book. From the parenting perspective, or from the leadership perspective. Ms. Nooyi is defined and excelled in the so many layers that cover her personality. And she has revealed all those facets in this book.
As I concentrate on Kids Mental Health and Parenting in this blog, I have decided to shed the light on Ms. Nooyi's parenting journey and the lessons she shared with us through her memoir in this post of Book Review of My Life in Full. Having said that, I am not undermining her other facets which are also truly inspiring and motivating for aspiring professionals.
Book Blurb:
An intimate and powerful memoir by the trailblazing former CEO of PepsiCo
 My Life in Full is a rich memoir, brimming with grace, grit, and good humor. This book offers a firsthand view of Nooyi's legendary career and the sacrifices it so often demanded. 
Nooyi takes us through the events that shaped her, from her childhood and early education in 1960s India to the Yale School of Management to her rise as a corporate consultant and strategist who soon ascended into the most senior executive ranks. The book offers an inside look at PepsiCo, and Nooyi's thinking as she steered the iconic American company toward healthier products and reinvented its environmental profile, despite resistance at every turn.

 Generous, authoritative, and grounded in lived experience, My Life in Full is the story of an extraordinary leader's life, a moving tribute to the relationships that created it, and a blueprint for 21st-century prosperity
My Book Review of My Life in Full
While reading her book, I could really understand the environment in which she grew up and the family circumstances at that time. Though we are almost 20 years apart, nothing much was changed either in the living conditions or in the family expectations about their kids. We were all taught about the same principles that only studies can help us in our future. Neat handwriting is a must for everyone.
The same goes even during my college days as well. We were just two girls in a class of 60 in my IIT. But we never got any preferential treatment for being girls. We had to slog equally and sometimes, even more, to prove that we are worthy to be there in that place. The same was true during my initial career days as well. So, while reading the initial parts of the book, mostly I was just reminiscing my own childhood days.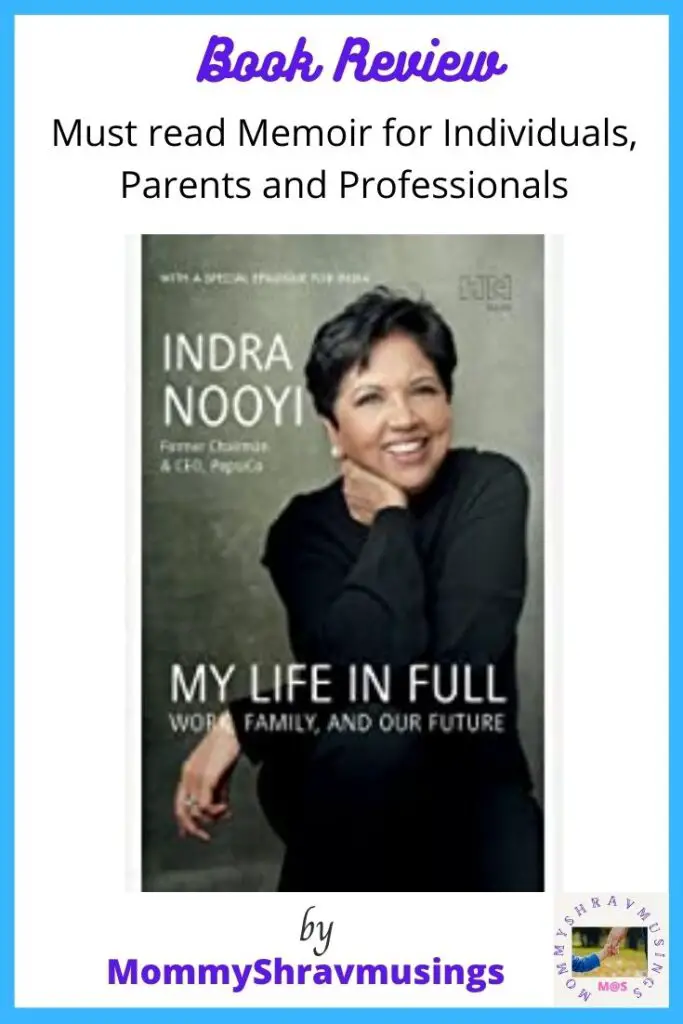 One can feel the raw emotions and the burden of the expectations (from extended family and friends) on her little shoulders to excel during her college days. The section, "Growing up" of the book sheds complete light on her basic foundation and ethics from which she has started growing up and became successful later on in her life.
The section "Finding my Footing" captures her immigrant dream and the hard work and sacrifices one has to put in to make that immigrant dream come to reality. Her initial struggles in Connecticut and finding her footing in her job at BCG as an immigrant shows the different picture of what an immigrant has to face during the late 1970s and early 1980s.
Related Read: Book Review of Story of the Story
The other sections like "Pespico-Years" and "Our Future" talk about various challenges she has to face along with the hard work and sacrifices she has to make to move ahead in her career. They also focus a little bit on the support of her immediate as well as the extended families she has received during those years. The sacrifices her husband Raj has to make to keep the family balanced were also discussed at a high level. But all those people come out of the shadows now and then and disappear behind the screen of the larger picture Ms. Nooyi. Since this is her memoir, we can't blame if those other important people don't appear prominently in this book.
Overall, this book is a good inspirational read for all the people aspiring to make it big in life (either professionally or on the personal front). There are so many lessons, one can derive from this book and the next section discusses those lessons on the parenting front.
Parenting Lessons from My Life in Full:
The first parenting lesson, that I want to highlight in my book review of My Life in Full is from Ms. Nooyi's mother on parenting about being a balanced parent.
One Foot on the brake to make sure that their daughters were protected and well-mannered and the other foot on the accelerator to help their girls gain respect, independence, and power.

From My Life in Full book my Indra Nooyi.
Irrespective of the gender of the child, every mother should have both her feet perfectly balanced on the accelerator and brake, so that their child can have a stable mind and good emotional intelligence.
2. The second lesson is about pursuing the parent's passions even after childbirth. Having a child shouldn't stop you from pursuing your passions or interests. But it takes time and effort from both the parents to ensure that the safety net has been provided to the child in the form of extended family or child care facilities.
3. The next lesson is once again from Ms. Nooyi's childhood days, about falsified praises or compliments. This lesson shows the benefits of honesty and simplicity while praising the children for what they had done. Too much praise or falsified praises do more harm to the kids in the longer run.
My childhood was not a world of "Great job!" It was more like "That was so-so" or "Is this the best you can do?" We were accustomed to honesty, not false encouragement

From the book My Life in Full by Indra Nooyi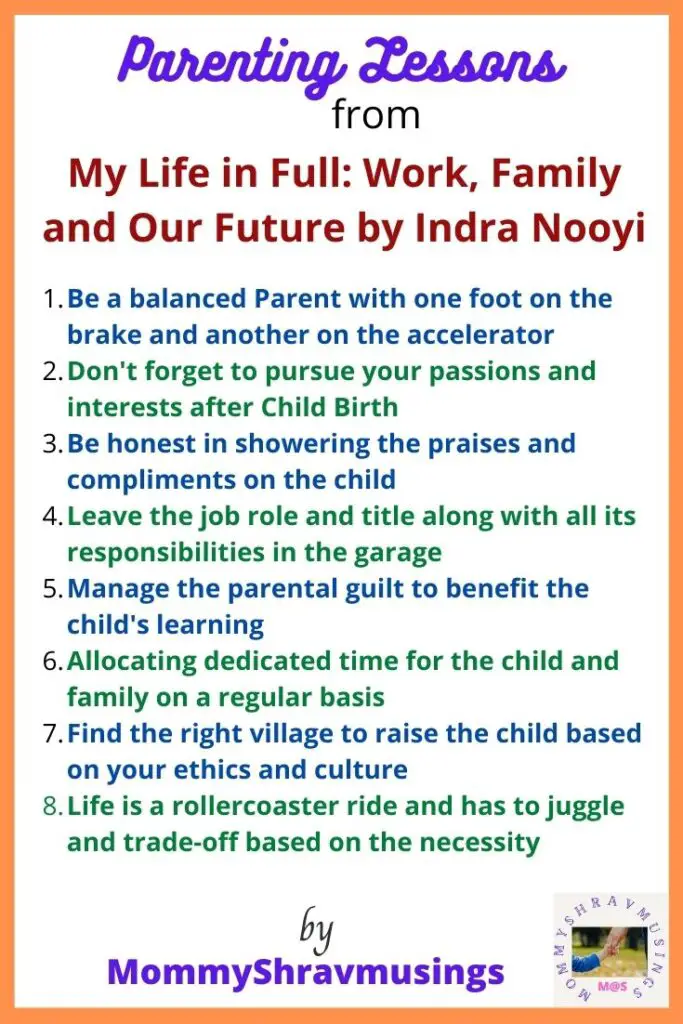 4. Next one comes once again from Ms. Nooyi's mother about leaving the job role and title outside the house. In fact, this lesson is not just for the mothers alone. For the kids, all they need is their parent's time and devotion. They don't even realize the importance of their parent's jobs till they enter into the tween years.
So leave that crown in the garage

From the book My Life in Full by Indra Nooyi.
5. Managing Parental Guilt: Evey parent goes through parental guilt at some point or the other. Whether it's either the stay-at-home parent or a working parent. In order to overcome that guilt, most people try to indulge their kids by buying unnecessary stuff. But Ms. Nooyi even uses this opportunity to teach her kids lessons about various cultures and traditions. The best part I liked is about her taking time out from her busy schedule to write letters to her kids. It's one of the excellent ways of communication channel which Nooyi has established with her kids.
Related Read: 9 Incredible Parenting Lessons shared by Navadurga
I was always looking out in airport gift shops for stickers or little toys and knickknacks to include with the envelopes. We ended up with quite a collection of dolls in national dress—from Finland, from Japan, from Brazil. 

From the Book My Life in Full by Indra Nooyi.
6. Time for the family: Amidst the busy careers and passions, every parent should take time out and spend with kids. During these time-outs, only the family bonding would get strengthened and beautiful memories would be made. In this ever-competitive and super busy world, the entire family should do this consciously to build those beautiful memories.
7. Finding the right village to raise the child: When the village to raise the child is missing, we need to find and replace that village with either extended family members, colleagues, and friends. Every parent needs that support from the village to raise the child. In Ms. Nooyi's case that village comprised of her mother, house helps, and her assistants at work. Without these people's help, it would have been really tough for her to manage her job as well as the kids.
8. Parenting and Life, in general, is a juggling act: This principle applies to life as well and points to the amount of hard work, trade-offs one has to undergo to have a balanced and happy life.
My life was a constant juggling act, with pain, guilt and trade-off's

From the book My Life in Full by Indra Nooyi
These are just a few lessons, which Ms. Nooyi shares in her journey as an individual and parent. She is one who strongly believes that becoming a parent is not an end to one's life. There is more to life and to the mother other than the kids. Once we understand this basic fact, then it's easier to read and understand her memoir in a new light. That is one more reason for me to dig into this book as a parenting coach and write this book review of My Life in full in such a detailed way.
Before closing my book review of My Life in Full by Ms. Nooyi, I want to reiterate my earlier statement. There is more to look at and learn in the book "My Life in Full". I am just limiting it to the parenting lessons and maybe on some other day, on some other platform, I would share my other learnings from this book. This book is a must-read for people of all ages (of course not kids), as Ms. Nooyi's life is an excellent case study of grit, hard work, humility, and ethics.
About the Author and Book Links:
Indra Nooyi doesn't need any introduction. She is one of the most popular Women CEO's in the world. As the Chairperson and CEO of PepsiCo, Indra K. Nooyi is one of the most powerful women in business. She can be reached on social media at:
Twitter: Indra Nooyi
Instagram: Indra Nooyi
Facebook: Indra Nooyi
Linkedin: Indra Nooyi
Her book, "My Life in Full Work, Family and Our Future" is available at:
Amazon: My Life in Full
GoodReads: My Life in Full
Blog: Indra Nooyi

 This blog post is part of the blog challenge 'Blogaberry Dazzle' hosted by Cindy D'Silva and Noor Anand Chawla in collaboration with VoxBox and Journey Matters.