During the A2Z challenge, I had read some of the blogs from Surabhi and really liked a few of them and we did try a few like (homemade bubble mixture and others). I was waiting for this book, as in between due to my travel, I missed a couple of days reading.
Review:
This book contains all the creative works that we can do with the kids with the materials available in the house. The instructions to complete the craft works have been given in a detailed manner and they can be completed with minimal adult supervision.
Apart from the craft works, Surabhi also mentioned few important topics for child's growth like "how to convert your child into a positive child", "the importance of physical fitness", etc. If we go by the google trends, these are the topics which most of the parents also struggle to, to inculcate these traits in the kids.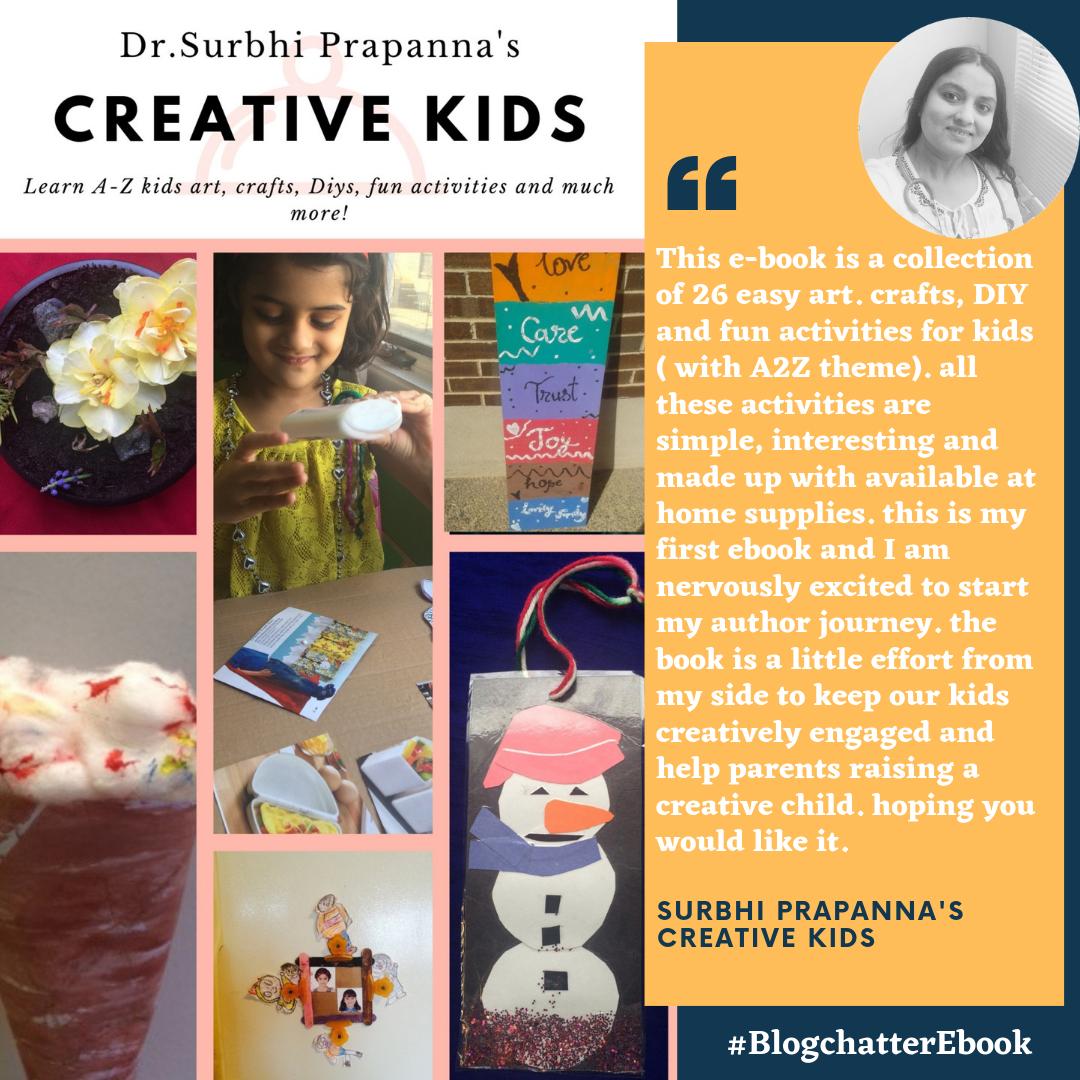 Pros:
The best part of the creative works mentioned by Surabhi, 90-95% of them could be done with the items available at home. As stated in her book, these are the craft works that can be handled by kid completely on his own when the end product photo is shown to him.
There is a surprise element for me in this Creative Kids book too. Not able to believe what it can be in an activity book for kids isn't it? It's basically the hair packs. Inculcating good hair care routine in girls is a must, irrespective of them having long or short hair. I really didn't expect it here, but was captured in a short and concise way. My niece had loved it actually, as I was reading this book and she is going to try it at home.
Surabhi has done complete justice to her book and her writing style is also simple and elegant.
Cons:
These simple crafts are making us ask more of them and the book got over fast. ? But honestly, there are no negatives that I can pinpoint in this book.
Conclusion:
This book is a must read for all parents, who want to keep their kids active and away from gadgets. The activities listed in this book gives us more ideas and an activity corner could be implemented in the house for the kids.
Author's Note: This review is a part of the Blogchatter Ebook review program. For my other reviews under this category, please click here.
Rating and other Details:
Book Title: Creative Kids
Genre: Parenting
Author: Surabhi Prapanna
Number of Pages: 81
Available: PDF, Blog Chatter Library
My Rating: 4.5/5.0