Right from our childhood days, we would have heard multiple clothing ranges. Cotton, Woolen, Polyester, Nylon, leather and fur etc isn't it?. All these clothing ranges are made either from the natural, cellulose or synthetic fibres. But now a days, Organic clothing has become a fashionable trend and has become quite famous as well. But all these clothing ranges are not made up of recylable material or used the sustainable measures in their manufacturing. Slowly and steadily, another clothing range is entering into the market and that's called Sustainable clothing. One can even find it on Amazon and other online stores, but have you ever wondered what the Sustainable clothing means?
Sustainable clothing is made using the recycling process. No, please don't jump to the conclusion that its the clothes which are getting recycled here. It's the process of manufacturing the clothing range that's sustainable for all the people, living spicies, environment etc. No one is harmed or endangered in this manufacturing process.
A new range of clothing has entered under the umbrella of sustainable clothing. And it's none other than plastic clothing. Suprised as to how the plastic clothing can enter into the sustainable umbrella isn't it? Ever wondered how good it would be if we can prevent the pet bottles entering into the garbage dumps? How much pollution we can prevent? Just based on this thought, the scientists in Taiwan have worked hard and found a method to convert the plastic pet bottles into plastic yarn which is used to manufacture the plastic clothing.
You would be interested in reading: Road Doctor #WATWB
One of the Indian Cloth manufacturers in Tirupur (the Manchester of India) has used this plastic yarn to manufacture the dresses. The manufacturer name is N.C. John and Sons in Tirupur. Incidentally, they had manufactured a lot of dresses for this Australian open season and if you are an avid fan of Tennis like me, you would have observed them. The ball boys and girls were sporting green and blue colour different uniform this time, instead of the plain whites. A little research from my end had led me to N.C. John and Sons. There is an article in Hindu regarding the same too. So there are lot more curious persons like me. So thought of sharing this story of #Environmental change story here in #WATWB. You can read the Hindu article by clicking here.
Isn't it wonderful to know that by buying a shirt or dress, you can save so many pet bottles from going into the garbage dump or into the oceans. It feels really sad to watch the cattle/dogs/fishes with bulging tummies, as they tend to think that this plastic is their food. By buying this kind of clothing ranges, we are doing our bit in saving our planet from the plastic pollution. There was a lot of research that has been done prior to introducing this plastic range of clothing into the market. Especially on the plastic leaching from the washing these clothes. You can read about it in the Wikipedia articles. Infact, the research has found out that this plastic clothing requires 30% less energy while compared to the traditional cloth manufacturing. So this is the additional positive news one can get to hear on the sustainable clothing range isn't it?
You would also like: 3 Lessons to be learned from Manasi Joshi
Author's Note: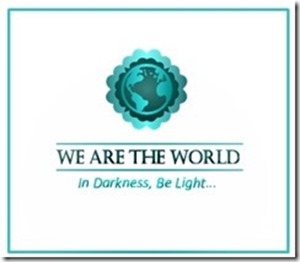 This post is part of the We Are the World Blogfest, a monthly blogging event created by Damyanti Biswas and Belinda Witzenhausen to showcase stories of hope and light. This month, this event is hosted by extraordinary bloggers : Damyanti Biswas,
Lizbeth Hartz, Mary J. Giese and Sylvia Stein, Shilpa Garg. Please hop over to check out their WATWB posts as well as from other WATWB participants for a dose of feel-good to last you a whole month. You'll be happy you did!