With its warm weather and longer days, summertime gives children freedom and relaxation as school doors close for a well-deserved break. It's a time for endless possibilities, imaginative adventures, and creating cherished memories. However, the summer break can pose a double-duty challenge for parents managing their kids' time effectively while ensuring a summer filled with fun, enrichment, and engagement.
To help alleviate this dilemma, we have carefully curated this summer bucket list for kids aged 6-12. These activities are fun-filled, educational, informative, and designed to keep children captivated throughout the summer. From outdoor adventures and creative endeavors to scientific explorations and community involvement, our list encompasses a wide range of experiences that will make this summer truly unforgettable.
You might want to read these Cool Summer Parenting Tips to keep yourself calm and composed this summer.
Summer Bucket List for Kids:
1. Outdoor scavenger hunt: Create a list of items for kids to find in nature or around the neighborhood.
2. Science experiments: Conduct simple and safe experiments like making volcanoes or homemade slime.
3. Nature exploration: Take nature walks, watch birds, or explore local parks to learn about different plants and animals.
4. Arts and crafts: Engage in creative activities such as painting, drawing, origami, or DIY projects.
5. Gardening: Start a small garden or grow potted plants, teaching kids about plant life cycles and responsibility.
These carefully compiled holiday destinations will ease your travel plans with your tweens and teens.
6. Water play: Have water balloon fights, play with sprinklers, or set up a small inflatable pool.
7. Outdoor sports: Encourage kids to try various sports like soccer, basketball, or biking.
8. Visit a local museum or science center: Explore interactive exhibits and learn about history, science, or art.
9. Camping in the backyard: Set up a tent, tell stories, and enjoy a night under the stars.
10. Picnic in the park: Pack a delicious lunch and enjoy a day outdoors with family and friends.
11. Create a scrapbook: Collect photos, drawings, and memories throughout the summer and create a scrapbook.
12. DIY science projects: Build a model rocket, create a solar-powered oven, or make a homemade lava lamp.
13. Bake or cook together: Teach kids how to prepare simple meals or bake cookies, fostering their culinary skills. Explain to them the science behind cooking and baking.
14. Explore a local library: Participate in summer reading programs and encourage a love for books.
15. Create a family play: Work together to write, direct, and perform a play or puppet show.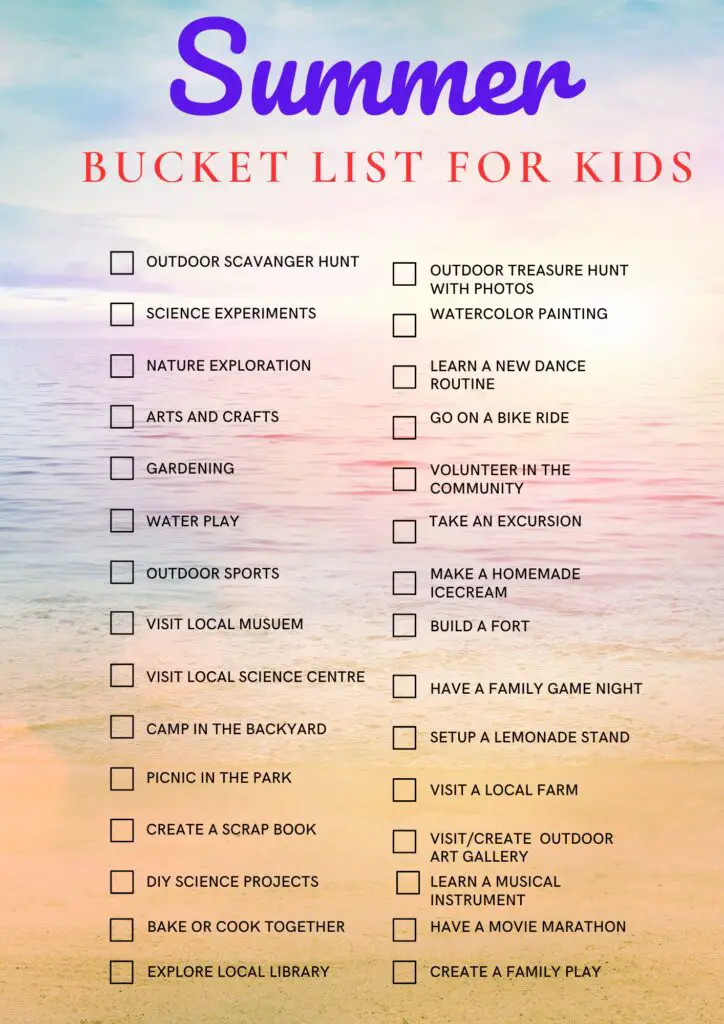 16. Have a movie marathon: Watch classic movies or animated favorites with popcorn and snacks.
17. Learn a musical instrument: Encourage kids to learn to play or experiment with different instruments.
18. Outdoor art gallery: Organize a neighborhood art show where kids display their artwork for others to admire.
19. Visit a local farm or petting zoo: Learn about farm animals and engage in hands-on experiences.
20. Set up a lemonade stand: Teach kids about entrepreneurship, money management, and social skills.
21. Family game night: Play board games or card games as a family for some quality bonding time.
22. Build a fort: Use blankets, pillows, and chairs to create a cozy hideaway.
23. Make homemade ice cream: Experiment with different flavors and create delicious frozen treats.
Your teen would definitely fall in love with this summer bucket list curated explicitly for them
24. Take a nature photography excursion: Teach kids basic photography skills and capture the beauty of nature.
25. Volunteer in the community: Engage in activities like cleaning up parks, helping at food banks, or visiting nursing homes.
26. Go on a bike ride: Explore local trails or go on bike adventures around the neighborhood.
27. Have a watercolor painting session: Experiment with watercolor paints and create beautiful artwork.
28. Learn a new dance routine: Watch online tutorials and learn a dance routine together as a family.
29. Outdoor photography scavenger hunt: Combine the joy of being outdoors with the art of photography by organizing an outdoor photography scavenger hunt.
30. Create a family time capsule: Collect meaningful items or write letters to be opened in the future.
Parting Thoughts:
By incorporating these activities into your summer bucket list for kids, you can ensure that your children's summer is filled with a perfect balance of fun, learning, and exploration. From the wonders of nature and the thrill of scientific experiments to the joys of creativity and community involvement, these activities spark curiosity, foster development, and create lasting memories.
Not only will these activities keep your kids entertained, but they also offer opportunities for them to learn new skills, develop their creativity, and cultivate their interests. Whether they're discovering the wonders of science through engaging experiments, exploring their artistic side through crafts and performances, or connecting with nature through outdoor adventures, this summer will be an exceptional time for growth and discovery.
I hope you liked the carefully curated summer bucket list for your kids. This list will help you embark on this journey of summer fun with your children and make the most of the endless possibilities this break offers. Let's create a summer filled with joy, laughter, and meaningful experiences that will impact their lives.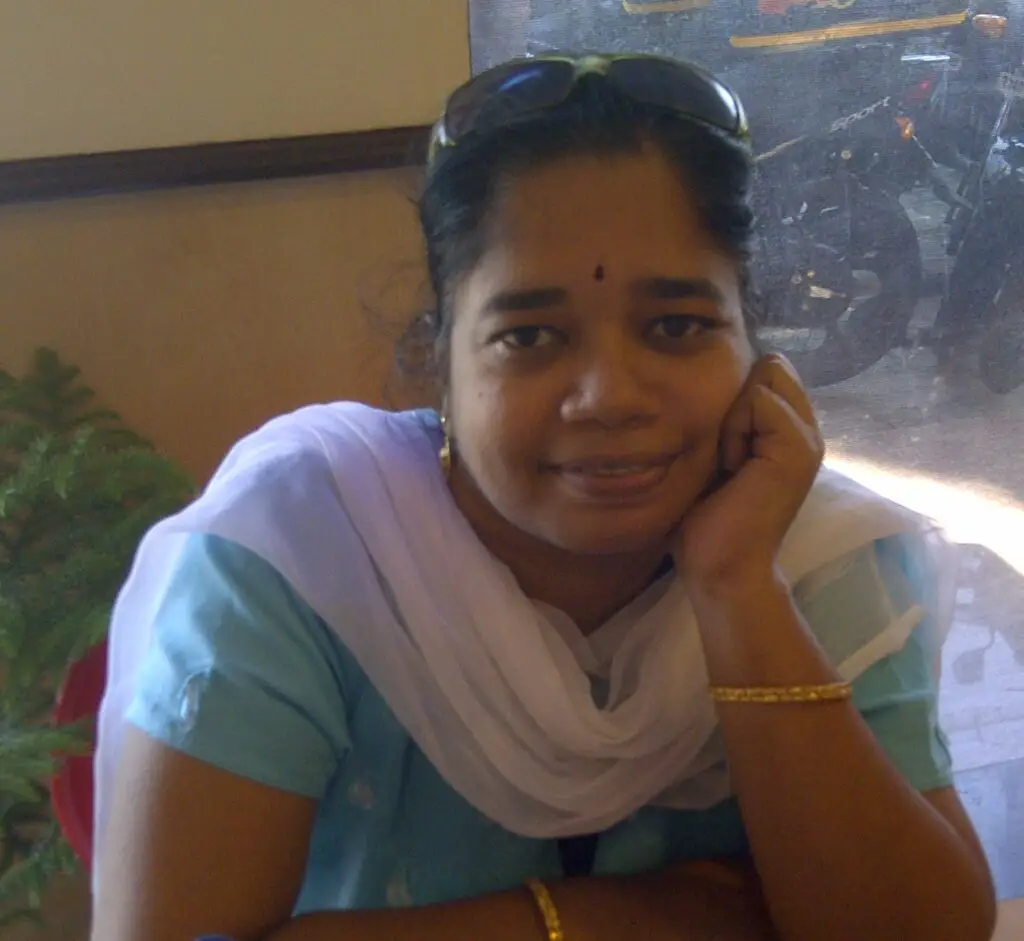 Suhasini, IP, is the Author of the book "Practical Tips for Kids Mental Health." As a certified kids and parents life coach, she helps/guides you toward a happy family life for your kids. She firmly believes, that "Emotionally Happy Kids of today are the Mentally Strong and Happy Citizens of tomorrow." Let's make the world a happy and beautiful place for our kids to thrive.