ZEE5 is working hard and bringing in the most promising series one after the other on to their platform. No wonder, it's turning out to be the best family destination on the OTT platform during this lockdown. To make the hot summers cooler and happy for you, the ZEE5 family is bringing is 6 new Zindagi shows on their platform. They are converting this hot and horrid summer into a #SummerofEmotions.
New Zindagi Shows on ZEE5 family
ZEE5 family of shows is bringing in the new six shows from the Zindagi channel on to their OTT platform. I am listing down a few of my favorites, which I choose to watch during my #ME time, to relax and refresh. With this lockdown and kids at home, the summers which have become hot and horrible, are becoming pleasant with these new series. Now, I don't have to worry about our forgotten summer holidays or any other stuff.
You might be interested in How to keep Sporty Kids at Home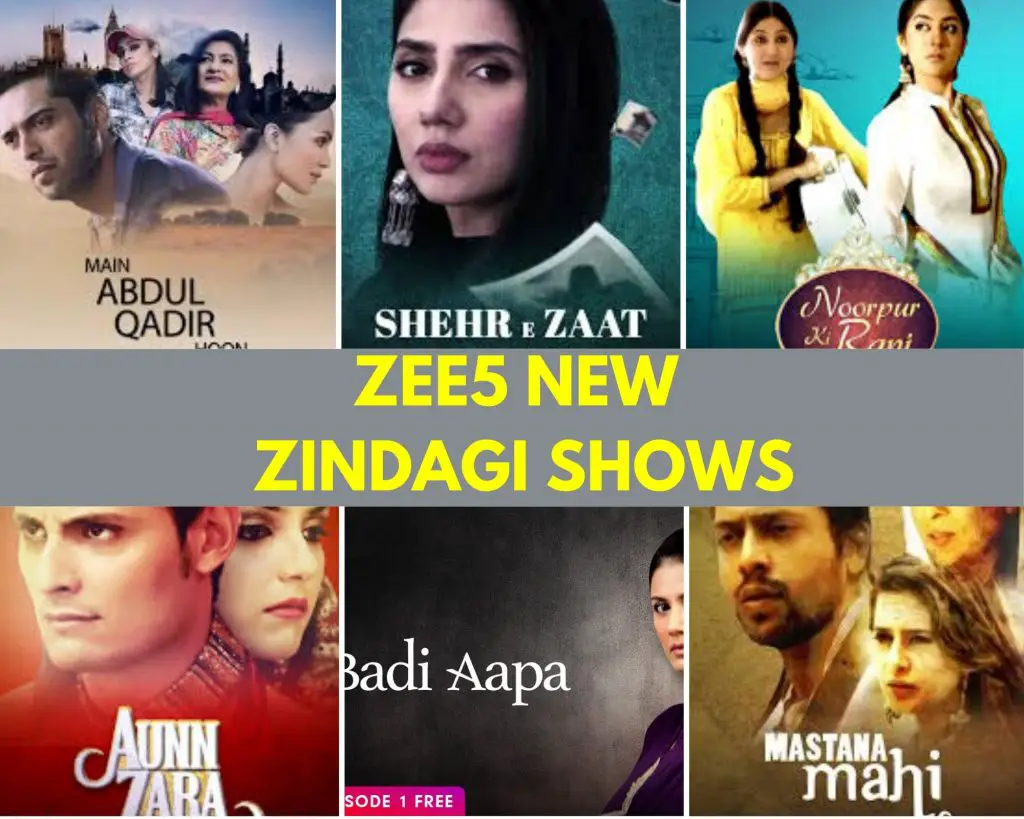 Aunn Zara:
As the name suggests, this series revolves around two characters Aunn and Zara. They are poles apart but get married due to family pressures. But the best part of this series is that instead of going into cheesy love story from then onwards, this series concentrates more on the substance and projects the lady protagonists as more independent and feisty natured. This story suits the current day trends and is a feel-good story, without much repetition or melodrama. This story is written by Faiza Iftikhar and directed by Haissam Hussain. The main protagonist roles are assayed by Maya Ali and Osman Khalid Butt
Shehr E Zaat:
This is another spiritual romantic drama based on the Pakistani novel of the same name. This is the story of a young woman (Falak) as she tries to find herself and inner peace. Falak is a fine arts student, who sculpts the people's faces as she sees them, Falak's travel in search of true happiness takes her closer to Allah. She realizes that the meaning of true love is only Allah and being near to Allah alone would bring her real happiness. The first episode itself perked up my interest and kept me glued to the screen. The protagonists are really awesome in this series. The protagonists are awesome in this series. No other person can assay the Falak role as easily as Mahira Khan has done. She stole the entire limelight of this show.
Badi Aappa
This is another one from my favorites list, which showcases a very strong woman. Despite the hardships she faces in life, she just stands by to what she thinks is right. Irrespective of, how people see her decisions, she adheres to them and expects everyone to follow her. This series showcases the true iron will of a woman. The plot is quite interesting and keeps us glued to the screens. Savera Nadeem acted as Zubeida and in my opinion no other person suits this character better. This drama is directed by Saife Hasan and written by Samira Fazal.
Mastana Mahi
The promos of this series have spiked my interest in this political romantic drama. This feel-good romantic drama is full of cheesy lines and like any other romantic drama, this showcases the chemistry of both the protagonists to the best. The characters are shown in-depth to understand the various levels of the complexity of each character. Fahad Mustafa assayed the character of Adil, the photographer's role very easily. Fahad can easily bring life to complex characters. Mehreen Raheel stole the show with equal aplomb as Aleena. Both of them carried this entire drama on their shoulders alone.
Noorpur ki Rani
Noorpur ki Rani is the story of two girls. The first girl Noor is from an impoverished background but finds happiness in everything around her. The second girl is a Princess who never gets satisfied with whatever she has. What would happen if these two girl's paths cross each other and how they would see the circumstances and how much influence each girl can have on the other can only be seen in the series. This series was far most popular with the Indians among all the Pakistani serials. Samira Fazal is the writer who brings the characters to life in this serial. Sanam Baloch and Mahanoor Baloch essay the roles of the Noor and Princess Raina. Both of them are well suited for these characters.
Mein Abdul Qadir hoon:
This show is the teen drama, that captures the life of Abdul Qadir. This series captures all the life turning points in the life of Abdul Qadir and is a must-watch show for all the ages. There is one of the other lessons that can be learned from this serial for all people, irrespective of their ages. This serial shows how the people around us influence us and how it can lead us to both good or bad paths in life. An interesting show that was tightly written and picturized.
I am planning to binge-watch at least a couple of the above mentioned Zindagi shows from the ZEE5 family over the coming weekend? What about you guys? Please let us know what are your favorites from the above list?